Christian Hendrix had just started her first year at the George Washington University (GW) School of Medicine and Health Sciences when she was hit hard by the news: Within a matter of days, Philando Castile and Alton Sterling had been shot and killed by police officers.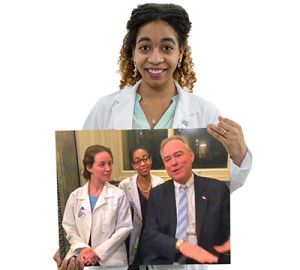 "A couple of students and I came to class the following Monday just feeling disconnected," she recalls. "We had been experiencing a lot of political talk about bigotry and dividing the nation and doing harmful action against people just because they're different from you." Hendrix and a few friends talked to GW faculty members and returned to class, sharing their thoughts after the lesson had wrapped. "We had so much support from the administration and from everyone in the class, through hugs and tears and solidarity." That support — and the desire to speak up — spurred Hendrix to do what so many other SMHS students have done before her: act.
Student Activists
GW has a long history of activism and advocacy — during the last several decades, students have supported HIV/AIDS research, measures for patient outcomes, and efforts to provide greater equity in health care, among other issues — and that is precisely why many SMHS students choose to attend school in the nation's capital. SMHS leadership has also sought to continue to shape student activists.
"Every clinician needs to recognize that [advocacy] is part of what their scope of practice should be to be an excellent clinician in the 21st century," says Lawrence "Bopper" Deyton, M.D. '85, M.S.P.H., senior associate dean for clinical public health, and professor of medicine at SMHS. "We take no position in what we teach here on what students' positions are or should be. We just want students to know how to develop their own viewpoints and be able to know how to advocate for their viewpoints when they are practicing clinicians."
Those perspectives may be dynamic, Deyton adds, but what's key is for students to embrace their passion. It's a stance Grace Henry, Ed.D. '12, director of the Office of Diversity and Inclusion and adjunct assistant professor of medicine at SMHS, echoes.
"We want a social activist, but we want these students to recognize that the definition is crafted by themselves," she says. "I truly want this generation to realize that they don't have to be constrained by what they've seen activism to be, but that they have the ability to define it and be as effective as they need to be to make the change they want to see."
As Henry explains, for some, activism means writing letters, signing petitions, and calling representatives; for others, it means organizing, marching, and putting a face on an issue. In 2014, for example, M.D. program students held a die-in for White Coats for Black Lives, a movement aiming to eliminate racial discrimination in health care, in front of the Foggy Bottom Metro station; in January 2017, the SMHS Inclusion Group posed for photos with white boards displaying messages of solidarity for #WhiteCoats4BlackLives.
"One thing I'm learning is that you can be involved in many different ways," Hendrix says. "Involved doesn't mean that you have to take on a visible, active role. Involved can be little things; just voicing awareness can be a small step anybody can take."
"As health practitioners, we see a lot that's on the ground … we can bring the perspective of 'coverage is good; coverage has helped; coverage has been good for patients.' Those are things we can see firsthand."– Jamie Majdi, third-year M.D. student
Political Action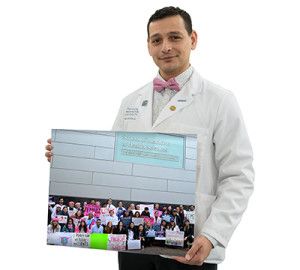 Hendrix's own steps came in the form of organization. She joined the SMHS student-led Social Justice Interest Group, which focuses on inclusion, solidarity through helping those in need, and using its voice to advocate for patients.
The group also worked with classmates who added two chapters, one for White Coats for Black Lives and another for the American Medical Student Association, designed to promote medical student activism. "The main thing we want to do is reduce health disparities," Hendrix says. "We think one platform is through social justice."
With that platform in mind, Hendrix joined Protect Our Patients, an Affordable Care Act anti-repeal campaign, and helped organize a D.C.-based summit in early January 2017. On Monday, Jan. 9, SMHS M.D. program students Jamie Majdi, Camilla Maybee, Mariama Evans, and Rayna Sobieski joined their fellow classmates and students from across the country at the Department of Health and Human Services, and together they marched on Capitol Hill, where they delivered the #ProtectOurPatients petition to members of Congress and their legislative aides.
"Because of our position as health care providers, we have a moral imperative to advocate for patients," says Majdi, a third-year M.D. student who met with aides for Sens. Dick Durbin (D-Ill.) and Tim Kaine (D-Va.). "I truly think that if we were to look at health care policy in a reasonable and measured way, everyone would agree that more coverage is best for the people of the United States."
="Change is only going to come when someone steps up, says that something is a problem, and makes their voice heard. I do think it's really cool that even as students, we have this ability to shape what the future of physical therapy is going to look like, and that's a really powerful tool. It's doing ourselves an injustice and our future patients an injustice if we don't advocate and speak up to make our care the highest quality it can be."– Sarah Guenzburger, second-year D.P.T. student
SMHS Doctor of Physical Therapy (D.P.T.) students have taken a similar approach to advocacy, participating in the American Physical Therapy Association (APTA) Federal Advocacy Forum in March 2017. The forum, says Annie Golovcsenko, a second-year D.P.T. student, had an educational bent, where participants, professionals, and students alike heard different speakers "talk about the issues that our patients are having to deal with and how we can be advocates for them, not only in the health care field, but also on Capitol Hill to our legislators."
"It was a great time to talk to other P.T.s and P.T. students about ways to get involved and to advocate for our patients, and also figure out the most effective way to go about talking to our representatives," Golovcsenko explains. "The APTA has a clear process to support us doing this; they were there giving us advice and tips to go about it."
That approach to advocacy — speaking to representatives and voicing patients' needs — is why third-year SMHS M.D. student Ashtin Jeney took action to ensure sure she has a "seat at the table."
"It's one thing to be vocal, it's one thing to have an opinion, and it's one thing to care about issues," Jeney says, "but putting yourself at the table, with the people who are having the conversation to enact change, I think, is really where we have to [be]."
"Just being in D.C. and having so many faculty members in the leadership roles of professional organizations like the AAPA [American Academy of Physician Assistants] … I think [it gives us] a great responsibility to be advocates for the profession."– Ellie Frye, first-year P.A. student
Jeney is the sole student representative on the bipartisan American Medical Association Political Action Committee (AMPAC) board. While the board works to make sure physicians' voices are heard in policy and supports candidates who prioritize health-related issues, Jeney's role is more concentrated: she raises awareness of AMPAC's mission by reaching out to students. It's an opportunity that could only have opened up at GW, she says.
"The Healing Clinic definitely makes you think creatively. … [L]earning to navigate barriers to care that aren't taught in the classroom is a unique opportunity that only the Healing Clinic can provide."– Kirsten Almagro, first-year P.A. student
At GW, "there are so many opportunities to get involved in policy, not just through our curriculum and the great things that we've gotten to do with the new [clinical public health theme] … but also to get involved in different organizations here in D.C.," she explains.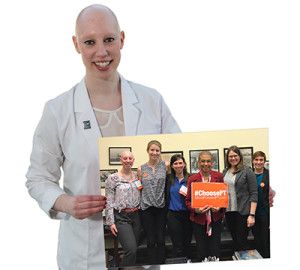 Face-to-Face With Patients
One inspiring organization has been the Healing Clinic, an SMHS student-run free clinic founded in 2006 that is open to the community.
"The Healing Clinic is a great way for people who want to get involved to, in a very direct way, help people and take care of patients," says John Marin, a first-year M.D. student at SMHS and director of communications for the Healing Clinic.
The clinic, which has two locations, one in Prince Georges County, Maryland, and another at Bread for the City in the District, is made up entirely of student, resident, and clinician volunteers.
"Being able to simultaneously give back to the community while working on our patient interaction and physical exam skills is so valuable," says first-year physician assistant (P.A.) student Bailey Ernstes. "I can't tell you how many times I've heard a classmate who's been at Healing Clinic say 'I'm so glad I went to that; it reminds me of why I want to do this.' "
The P.A. students, like their M.D. and D.P.T. counterparts, draw particular inspiration from working with patients in the community, and their volunteer efforts have extended to other groups, such as the SMHS DC Health and Academic Prep Program, which exposes rising high school seniors to health care professions. They also regularly advocate for their profession — P.A. students in 2015 spoke to Congress about P.A. research funding, diversity, and student loan repayment programs — and they take a class specifically on the role physician assistants play in health care.
"It was an eye-opening course for everyone," says Ernstes. "I didn't realize there was so much advocating that still needed to be done."