SMHS Updates, Increases Facilities to Expand Faculty Accessibility
The George Washington University (GW) School of Medicine and Health Sciences (SMHS), as it aims for pre-eminence in every facet of the institution, is expanding and growing its core lab facilities to ensure all faculty have access to the necessary tools and technologies to support their research.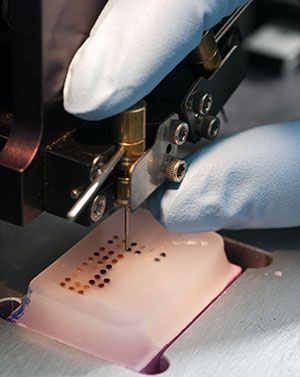 "We're always striving to provide the most efficient way for our faculty to access new tools," says Robert H. Miller, PhD, vice president for research at GW and senior associate dean for research at SMHS. "Instead of researchers having to buy their own equipment, cores provide common equipment that is several grades up, and we can keep it up-to-date and modern."
One of the first recent steps in updating the core labs was the addition of a satellite Flow Cytometry Core Facility in Ross Hall. The new site complements the one located in the GW Cancer Center on the eighth floor of the Science and Engineering Hall, which contains equipment for sophisticated cell sorting and cell analysis experiments, as well as services in data analysis, instrument training, and cytometry education. The satellite site will offer greater access to and availability of those same tools to researchers located in Ross Hall — and save them the trip across the street to use the resources, says Miller. The school also has formalized its Biorepository, a comprehensive resource of biospecimens and clinical data, based in the Department of Microbiology, Immunology, and Tropical Medicine, and designed to help SMHS investigators facilitate their research on HIV/AIDS, cancer, and other areas. The Biorepository includes specimens from NIH-funded projects.
By formalizing this resource, Miller explains, SMHS ensures that the monetary rates for storing specimens in the repository can be charged to the researchers' grants at the federal government rate. "Basically, that will make it much easier to collect and store samples, and it will further support translational and clinical research," Miller notes. Another new addition under discussion is the creation of a Cellular and Molecular Core Facility. This will expand capabilities for faculty working in the GW Institute for Neuroscience and other molecular biologists in SMHS.
Miller says the new facility would include equipment allowing for analysis of cellular metabolism, and would enhance immunohistochemistry, which is the process of detecting antigens in cells of a tissue section; RNA scope; and in situ hybridization, a type of hybridization that uses a complementary DNA, RNA, or modified nucleic acids strand to localize a specific DNA or RNA sequence in tissue. "The changes and additions we've made and will continue to make to these vital facilities are all about efficiency and allowing faculty to have access to modern technologies," he says.
---
CURRENT CORE LABS
Research Pathology Core Lab: Provides research services for both human and animal tissues, including tissue processing, embedding, sectioning, routine haematoxylin and eosin stains, more specialized stains, and optimization of immunohistochemistry. Nanofabrication and Imaging Center: Features microscopy instrumentation and a Class 100 cleanroom. It provides university-wide core infrastructure for research in engineering, chemistry, physics, biology, public health, medicine, and biomedical sciences. Flow Cytometry Core Facility (See story) Biorepository (See story) Biostatistics Center: Serves as the coordinating center for large-scale multi-center clinical trials and epidemiologic studies. The center participates in major medical research programs of national and international scope McCormick Genomic and Proteomic Center: A genomic research center at the interface of computational genomics and wet-laboratory science. GW Biomarker Discovery and Analysis Core Facility: Provides resources for the detailed analysis of gene and protein expression in the nervous system and other services.