Inside the walls of a hospital or clinic, physicians only get a glimpse of their patients' lives, and for MD/MPH student Ciara Brown that's not enough. She wants to know about their lives outside the four walls, about the world in which they spend their days — the relationships between communities and the health of their residents.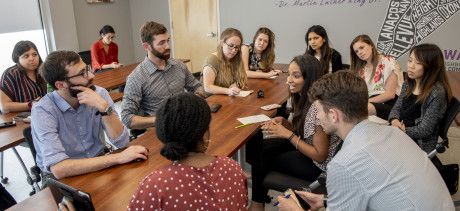 "In the past few years of medical school, I've definitely learned a lot about how to treat your patients when they're with you face to face," says the George Washington University (GW) School of Medicine and Health Sciences (SMHS) student. "But so much of our lives are lived outside those spaces, and I want to ensure my patients are healthy when they are not in the doctor's office." That's why Brown chose to get not only her MD degree at SMHS, but also a master's degree in public health through a revamped dual-degree MD/MPH program offered by SMHS and the Milken Institute School of Public Health at GW (Milken SPH). Under the recently updated program, students can earn both degrees in just five years thanks to public health offerings built into the MD curriculum.
Brown has already finished her first three years of medical school and now is deep into her public health education. The dual-degree program offers students flexibility in how they pursue their education. For Brown, the best path was taking the summer, fall, and spring semesters between her third and fourth years of medical school for the public health classes. She'll then return to medical school with the Class of 2021 to finish out her fourth year.
For a long time, GW has offered students the ability to get a dual MD/MPH, but changes to the requirements for public health degrees about eight years ago made the process more difficult, lowering enrollment in the MD/MPH program, says Lawrence "Bopper" Deyton, MD '85, MSPH, senior associate dean for clinical public health, Murdock Head Professor of Medicine and Health Policy, and professor of medicine at SMHS.
"I want to ensure my patients are healthy
when they are not in the doctor's office."
However, expanded content in public health, population health, health system science, and policy as part of the MD curriculum allows for cross-crediting with public health degree requirements, streamlining the process. "This applies to any medical discipline a student may want to pursue, be it pediatrics, OB-GYN, pathology, or surgery. This is for that student who wants to make the public health aspects of their scope of practice a prominent feature of their career," Deyton says. "You look at the former students who did the combined MD/MPH before, and they are clinicians who are out there leading health systems, leading hospitals, leading health departments, and doing extraordinary research in public health and policy." GW medical students receive 15 credits toward an MPH based on the expanded public health content. "That content includes the new Patients, Populations, and Systems courses and the clinical public health summit experiences, among other offerings, which leaves only 30 credits needed at Milken SPH for the MPH, rather than the usual 45 credits," says Karla Bartholomew, PhD, JD, MPH, PA, program and development officer for clinical public health and director of the dual-degree MD/MPH program. If students don't want to take the full step toward an MPH degree, there is also a graduate certificate in public health, which offers similar cross-crediting. "While it would typically require 15 credits for the certificate, medical students receive cross-crediting for five credits, and only need 10 credits through Milken SPH, which can be completed within the four years of the MD program," says Bartholomew.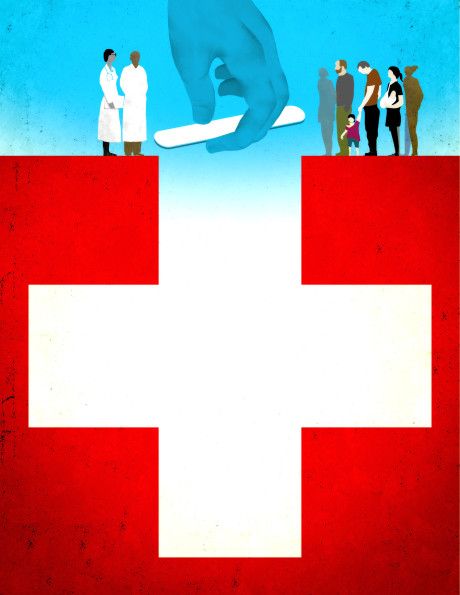 Penciling In Another Degree
Megan Fuerst always knew she'd pursue an MPH in addition to her MD degree. The only question was, "when?"
"I could have done it before medical school, during medical school, or after as part of a residency program. I decided I wanted to do it during medical school because I really have enjoyed living in Washington, D.C., and I have grown to care a lot about public health and community health here," she says.
Fuerst has worked as a director at the GW Healing Clinic, a free clinic run by SMHS students, and has also been involved in a program through the American College of Obstetricians and Gynecologists teaching sexual health to middle and high school students. "I love family planning, reproductive health, and women's health, and so I'm excited to have a chance to evaluate the program and evaluate the needs here," she adds.
Fuerst is taking the bulk of her public health classes in the fall and spring after having completed some core courses during the summer between her first and second years of medical school. Some students have even opted to take their public health courses after their fourth year, says Bartholomew. "This really opens the doors to a wide array of career paths for students that they might not otherwise have thought possible."
Putting it in Practice
SMHS alumnus Sunil Budhrani, MD/MPH '99, chief executive officer of Innovation Health, a health insurance plan created through a partnership between Inova and Aetna, knows how much of an impact an MD/MPH dual degree can have on a career.
He spent the early part of his working life in emergency departments in Boston, New York, Florida, and the Washington, D.C., area. With his management acumen and his MPH, Budhrani says, he was empowered to climb the ER leadership ladder at an early age.
"I believe the two degrees, and my passion for medicine, helped me get to a place of clinical leadership at a rapid pace," he says. The degrees also led him down an entrepreneurial track; Budhrani moved back to D.C. in the early 2000s and started one of the first multistate urgent care systems in the region. He then sold that venture and, with the help of another GW colleague, started a new company called CareClix Telemedicine, which offers global telehealth software solutions to help doctors see patients virtually.
"The foundation of the MD/MPH allowed me to do things in leadership roles in emergency medicine, start companies that I was able to exit successfully, and then go on and be an adviser for the Affordable Care Act (ACA) population health endeavors," he says. His role in assisting with the insurance models in the ACA led him to pursue his current position at Innovation Health.
"All of these parts of my career built upon each other to help me achieve what I have today," he says. "And much of it started at GW."
Budhrani adds that public health and population science are very much in the spotlight today. "Our medical system has been created to deal with a one-on-one reactive type of care, which is extremely important; however, there needs to be additional focus on how we manage large populations of patients as well," he says.
Bartholomew says faculty at SMHS are seeing not just a receptiveness on the part of students toward more public health in the curriculum offered, "but there is also an expectation that this will be part of their education in the MD program."
Going for Two
The SMHS Physician Assistant Studies program also has a dual degree offering, which was launched in the late 1980s, becoming the first PA/MPH program in the nation at the time.
The program averages about 14 students in each cohort, according to Howard Straker, EdD, MPH, PA-C, director of the PA/MPH program and assistant professor of physician assistant studies at SMHS. Students complete their public health course work in their first year at GW and spend their last two years in the PA program curriculum.
"The program is geared toward students who want to be clinicians who have the insights into the health of populations," Straker explains. "Many have had previous experience working with underserved communities, public health settings, or research prior to applying. Some of the students intend to use their public health knowledge and skills to help them be better clinicians, while others intend to create careers where they are both clinicians and public health practitioners."
Bartholomew adds that having two degrees allows students to take their career one step further, no matter what they choose to do.
"Given the changing health care landscape, given what we know of both worsening disparities and a growing awareness of influences on health that extend beyond the clinical setting, it makes ultimate sense to better prepare our clinicians to effectively address those issues by capitalizing on the strengths we have at GW," Bartholomew says.
Brown, who will complete the public health portion of her training at the end of the academic year, adds that she knows she has made the right decision in taking the time and investing the added tuition to pursue the dual degree.
"It's been a phenomenal last three years; it's amazing how fast time goes by," she says. "And to look back three years ago and realize how far I've come is incredible."