SMHS MD Student Hopes to Pursue Career Based on Trusting Relationships with Patients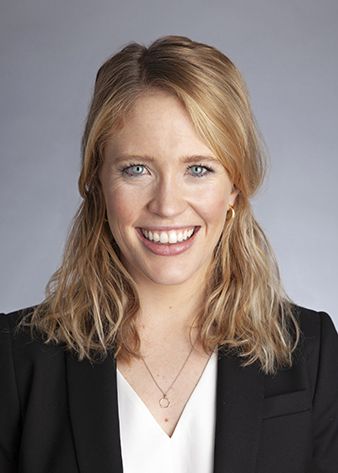 Colleen Considine, a fourth-year MD student at the George Washington University (GW) School of Medicine and Health Sciences, says when deciding what career to pursue, she knew she wanted one based on meaningful relationships. And, to her, there's no more powerful relationship than that of health care worker and patient.
"There's a vulnerable, raw, and real relationship between providers and the patients they care for," she says. "Knowing that, I chose to pursue medicine, for the people and the relationships, along with the chance to learn something new every day."
Now in her final year at GW, Considine is preparing herself for the next step in her career. Her goal is to help the most vulnerable among us — children.
"I'm hoping to pursue pediatrics, possibly pediatric oncology," she says. "I've had the incredible opportunity as a student at GW to receive my pediatric training at Children's National Hospital. It has been so rewarding to work at a medical center that not only provides care for the local community, but is also an international referral center where patients and their families come from far and wide to seek advice, seek treatment, and seek counsel."
Considine adds that she's drawn to pediatrics because of the hope that can be found in the specialty.
"In pediatrics, you're tasked with taking care of someone's child, requiring the most trusting of relationships. I don't take that lightly," she says thoughtfully. "For me, pursuing a career in pediatrics not only gives me the opportunity to give children hope after any setbacks, but also the ability to be a mentor to them. Our lives are made up of innumerable inflection points, with a majority of them falling in our childhood years. If given a chance to push those inflection points in a positive direction, I think that's the greatest gift I could receive."
The ability for Considine to pursue her passion was, in part, made possible by an important relationship in her life: that with her granduncle Edward Sullivan.
Sullivan was a WWII veteran who was captured in France by German troops and held as a prisoner of war from 1944 to 1945. Because of Considine's connection to him, she was able to apply for and receive the Tauber Scholarship, offered to GW medical students who are descendants of U.S. World War II veterans who participated in the European Theatre.
Considine describes Sullivan as a warm and welcoming man – and also a bit of a jokester.
"He was brilliant," she says, "working at NASA for twenty years. He was very humble, always honorable and trustworthy."
In addition to the Tauber Scholarship, Considine is a recipient of the Herbert and Ruth Abramson Scholarship Fund, which was established in 1996 by Ruth H. Abramson, BA '41.
The scholarships "absolutely" took weight off Considine's shoulders when it came to concerns about the financial burden of attending medical school.
"Looking ahead to residency and very likely fellowship, every little bit counts to lessen the amount of student loans. It makes the opportunity to pursue what I want after school that much more achievable because of the financial support," she says. "I am forever grateful.