As a rising senior at Bowie High School in Prince George's County, Maryland, Malik Williams dreamed of a career in medicine. Growing up in Temple Hills, Maryland, all Nicholas Dingle thought about was becoming a sports announcer. A unique program at the George Washington University (GW) Rodham Institute is helping both of them get a little closer to achieving their goals.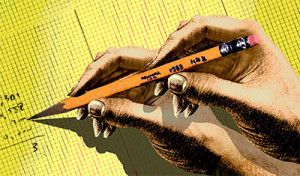 In spring 2018, Williams graduated from the University of Wisconsin; he plans to pursue a master's degree in health policy and management. "Wisconsin made me better equipped to handle different environments," Williams says with a little laugh. He adds that the skills and experiences he gained through HELP put him on a firm footing in college. "It was a sink-or-swim situation, and I learned how to swim." Ultimately, Williams would like to work for the Centers for Disease Control and Prevention as a public health policy specialist.
HELP, says Tracie Bass, director of workforce pipeline programs at the Rodham Institute and the program's founder and driving force, is really the centerpiece of the institute's youth education programming. "It's the exposure that makes this so important," she explains. "Many of these kids have never even been on a college campus before. Because of their socioeconomic status, they haven't considered going to college as a real possibility."
The yearlong program consists of a back-to-school event, a spring break camp, a two-week summer session, and monthly professional development and service opportunities on Saturdays throughout the academic year. The experience offers invaluable firsthand role modeling from SMHS MD students, residents, and faculty instructors, and program participants gain direct skills-based instruction focused on health awareness, advocacy, interest, ability, and a postsecondary education. Students participate in community service activities, receive professionalism tips, and develop leadership skills, and not only do they receive CPR training, but they're also trained by compression-only CPR instructors.
"Our goal is to expose the kids to the variety of health care careers," Bass explains, adding that the career advising and college preparation offered through HELP is framed in a health care context. "This is meant to be a pipeline program for students to go into health care." Even if the students don't choose a health profession in the future, she says, they still learn to be better advocates for, and consumers of, health care for themselves, their families, and their community.
The benefits are mutual, Bass adds, calling the program a bidirectional learning experience. "The MD students and residents are getting exposure to children who, in many cases, don't have any experience working with [health care] in any setting. They learn a lot about the health disparities these children and their families face in Washington, D.C."
Rodham Institute staff are quick to point out that HELP introduces participants to the medical professions, but doesn't exclude other vocations. Dingle, 20, a sophomore at Virginia Union College and the son of Monica Jenkins, an administrative assistant in the Division of Cardiology at SMHS, says he received CPR training and learned about health disparities and "food deserts" — communities underserved by grocery stores. "I did a social impact project on that topic," he adds. Dingle also learned "how to network and be a professional," he says proudly.
As he pursues his lifelong ambition of becoming a sports announcer, HELP volunteers connected Dingle with Dave Johnson, sports director for WTOP radio and the play-by-play announcer for the Washington Wizards and DC United, who has become his mentor. In return, Dingle is now mentoring middle school and high school students, focusing "on good work habits and time management."
Franck Tchoukeu credits HELP with developing his social skills and his confidence, but he had to be persuaded by a high school counselor to join the program. "Once I got there, I got out of my comfort zone," he says. He went on to the University of the District of Columbia, where he was elected treasurer of the Student Government Association.
So far, according to El-Bayoumi, 100 kids and teens have completed the program, all of whom have graduated from high school and gone on to a four-year college or a community college, or, in one case, enlisted in the military. "All of them are being exposed to a variety of health careers," says El-Bayoumi. "We would love everyone to go into health care, but even if they don't choose [the profession], they still become health champions."