Angelo Landriscina, MD, RESD '20, Uses Social Media to Share Expertise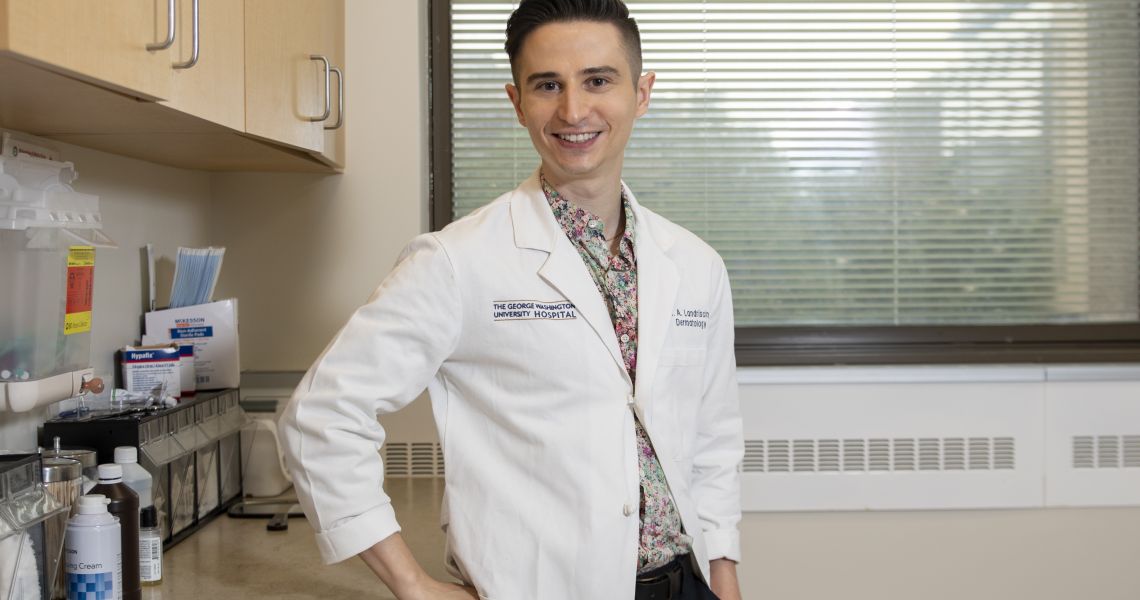 In the digital age, we have access to all sorts of information at our fingertips. The advent of social media platforms has made it possible to share news with a wide audience in a matter of seconds. But, cautions Angelo Landriscina, MD, RESD '20, there is a lot of information being shared from not so reputable sources.
After seeing how people communicated about skin, skincare, and dermatologic conditions online, Landriscina, who completed his residency in May 2020 in the Department of Dermatology at the George Washington University (GW) School of Medicine and Health Sciences, decided in 2019 to launch a blog to share his expanding wealth of knowledge.
"I wanted to have a public-facing presence where I could share what I know in a way I don't usually have the time to with my patients," Landriscina says. "We all have skin, you need it to live. To be bringing people this new information that they didn't know is the most fun for me."
With his first article, titled "You're Probably Showering Wrong," the online persona, DermAngelo, was born. He says the response he got to the article was wild. "I've been doing this for a little over a year now and the level of engagement on each of the articles that I put on the blog or when I post on Instagram or Twitter is amazing," says Landriscina.
Raised in Brooklyn, Landriscina knew he wanted to be a dermatologist since age 16, after noticing how people treated sun exposure differently from how they treated other cancer-causing behaviors, such as smoking. Why, he wondered, were there huge public health campaigns for smoking, but not for sun exposure?
"The skin's position as an external organ really makes people interact differently with it," Landriscina says. "It has so many functions beyond the physiologic. It also plays a huge part in our social functioning."
After graduating with his medical degree from Albert Einstein College of Medicine, Landriscina joined the GW Department of Dermatology residency program where he continued to find new things to love about the specialty and grow the knowledge that he now shares with those who read his blog and more than 25,000 followers on social media.
"I see my purpose more as conveying this information in a socially responsible way," he says. "Often I talk about the impact of the skincare industry on the environment and the financial aspects of the kinds of things people don't necessarily need to be buying."
While embracing and taking on a presence in the fast-paced digital world, Landriscina also wanted to explore traditional media and how it is used to share important health news and information with the public. Through an elective in the Department of Medicine at SMHS, he participated as a member of the ABC News Medical Unit.
During his month on the team, Landriscina worked with other residents and fellows to vet information and data and share knowledge of what was publishing in medical literature with the news team.
"That was a really amazing experience for me, especially since I have an interest in media," he says. "It was a totally invaluable experience that I think really prepared me going forward."
Landriscina isn't just focused on how to best optimize digital and traditional media to highlight his expertise on skincare. He has developed a research interest in the role dermatologists can play in LGBTQ health, an area, he explains, where there is a large knowledge gap. He recently presented at the Orlando Dermatology Aesthetic and Clinical Conference, offering a deep dive on the topic and providing key points dermatologists should be aware of when treating LGBTQ patients.
"As I've gone through residency, I've seen a bit more interest in this topic," he says. "Specifically, in dermatology there's been more interest in how we can treat transgender patients, especially from the aesthetic aspect of what we do."
Moving forward, Landriscina says, he is excited to continue developing the field's understanding of how to care for this group of patients.
Landriscina's blog can be found at www.dermangelo.com and you can follow him on Twitter, TikTok, and Instagram at the handle @dermangelo.