U.S. Army Capt. Olga Terekhina, MSHS '16, BSHS '12, is an outstanding alumna of George Washington University (GW). Although you'd think it would be easy, finding students on campus who've taken courses alongside her is a nearly impossible task. Perhaps that's because despite earning two degrees, and working toward her third, in laboratory technology from GW's School of Medicine and Health Sciences (SMHS), Terekhina has never set foot on campus.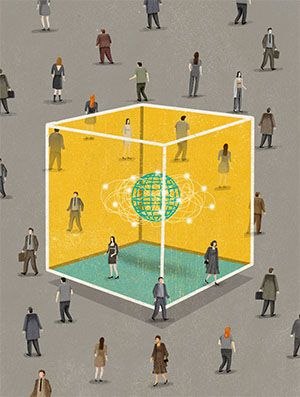 There's an old saying that the military runs on its stomach. Maybe so, but GW's armed service members education, in large part, runs on distance learning. GW is a major player in that space; SMHS is a classroom to the world, thanks to having one of the largest online education programs in the country. Since the mid-1970s, the school has had a relationship with the U.S. Navy, offering degree programs in medical laboratory technician studies and nuclear medicine, among others. The Army joined its ranks in the mid-1990s with a degree program in medical laboratory technology.
Now there are courses in a variety of health sciences fields available to active-duty service members; thousands have taken these programs and have obtained Associate in Science (AS) degrees, Bachelor of Science in Health Science (BSHS) degrees, and Master of Science in Health Science degrees. Thousands of active-duty members of the military have gone through the Medical Laboratory Sciences (MLS) program. They work as lab techs all over the world, providing vital information about the status and function of the body — data that is used in the diagnosis, treatment, and prevention of disease.
Overseeing the program is Marcia Firmani, PhD, MSPH, who serves as the chair of the Department of Biomedical Laboratory Sciences (BLS). Firmani teaches several courses within the MLS program, including clinical microbiology and molecular diagnostics. "I think the reason we've been successful, and why students like to come to GW, is that we have fully online courses," says Firmani. "So whether the student is based in Guam, Japan, or Germany, they can partake in and complete our programs.
Firmani estimates that at least 60 percent of the students enrolled in the BLS programs are active-duty military or veterans. To encourage them to obtain college degrees and provide accessibility to those studies, SMHS offers tuition assistance to active-duty military students in the online BSHS degree programs. Many of the military graduates from the BSHS programs come back to GW to complete online master's degrees. "Once they graduate, they are deployed all over the world as medical lab technicians," says Firmani. Thanks to a shortage of lab techs, "over 90 percent of our students have a job the day they graduate." Courses, says Firmani, start each week on Mondays. "The students are working so they have to be able to do their course work in their own time," she explains. "It's very similar to being in a classroom; there are lectures, videos, and whiteboards."
There also are live sessions via computer that include a hand icon that students may click to ask a question. For the teacher, there are some disadvantages, she admits. "You don't see their faces, so you don't know who's puzzled or bored — or sleeping." On the other hand, students pepper their course instructors with emails all the time. "It's like having office hours 24/7," she laughs.
The health sciences program is host to one of the largest online distance learning programs at GW; the Milken Institute School of Public Health at GW and the GW School of Nursing are the other significant players. The military relationship has been "very positive" for health sciences, says Firmani, "because [students] are proud to obtain GW degrees — and they go on to take non-contract courses."
Terekhina, who came to the United States from Ukraine in the late 1990s, says the online program meshed well with her career goals. "It was very suitable for a working military professional with a schedule that sometimes could be unpredictable and who may have been located halfway across the world," she says.
She received her bachelor's degree in clinical laboratory science in 2012 (summa cum laude) and, four years later, earned her master's degree in medical laboratory sciences (with honors), and won the prestigious Ozgur Ekmekci Interprofessional Leadership Award. She's currently assigned as the chief of laboratory services and the quality assurance coordinator for the Medical Department Activity–Bavaria in Vilseck, Germany. Her goal is to complete her doctorate in clinical laboratory science. Despite her lack of physical presence, Terekhina left an impression at GW — and vice versa. "The program expanded my view of the health problems that plague the world, introduced me to new technologies capable of diagnosing them," she says. "[It] acquainted me with policies necessary for these technologies to be used ethically and responsibly.
---
Top Rankings
U.S. News & World Report recognized the George Washington University (GW) as having top online bachelor's programs, ranking in the top 20 in the 2019 Best Online Programs rankings. The programs were selected based on factors such as graduation rates, indebtedness of new graduates, and academic and career support services offered to students. The online bachelor's programs housed within the GW School of Medicine and Health Sciences were scored high for having faculty with academic credentials that mirror campus-based programs and having well-trained instructors to teach distance learners.
The programs also received high marks for engagement, meaning there is high participation in online courses compared to other online programs. GW has been offering online bachelor's degree programs since 1996–97. Many online students at GW are active-duty members of the U.S. military. U.S. News & World Report also ranked GW as having one of the best online bachelor's programs for veterans.