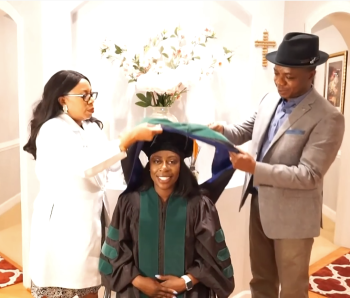 From living rooms and backyards across the country, members of the George Washington University (GW) School of Medicine and Health Sciences (SMHS) MD Program Class of 2020 took the next step in their medical careers in a virtual graduation celebration on Sunday, May 17.
Many of this year's graduates donned their academic hoods with the help of family members and friends. Each graduate had a brief moment in the limelight, some holding their children while others waved their diplomas as they slipped into their new regalia.
Graduates Amali Dilhara Gunawardana, David Poran Strum, and Austin Wu opened the event with a performance of Cyndi Lauper's Grammy Award-winning song "Time After Time."
Following the performance, Strum, Class of 2020 valedictorian, introduced the day's keynote speaker, Jo Shapiro, MD '80, FACS, who serves as an associate professor of otolaryngology-head and neck surgery at Harvard Medical School. 
In her remarks, Shapiro addressed the sweeping role physician wellness plays in modern health care, in both preventing burnout and improving patient care. Developing constructive methods to address emotional stress and conflict in the health care professions has played a significant role in Shapiro's career. In addition to serving as a surgeon and an educator, Shapiro has been a "culture change warrior" in the fight for physician wellness initiatives. In 2008, she founded the Brigham and Women's Hospital Center for Professionalism and Peer Support, where she served as the director for more than a decade.
To help prepare the new graduates to enter a world fraught with many long-standing challenges, as well as an on-going pandemic, Shapiro encouraged the class members to serve as change agents, supporting the wellbeing of clinicians. "Each of us at any level, can act in a way that strengthens the parts of the culture that we value, and change the parts that need changing. This is an immense responsibility, as well as a golden opportunity.
"My deepest hope," she said, "is that we can give the same compassionate care to ourselves and each other as we do to our patients and their families."
Following the keynote and the hooding, Kunj Rajendra Bhatt, MD '20, delivered the student speaker address. He congratulated his classmates for their early commitment to the community. "From managing COVID-19 hotline and testing sites, caring for the children of hospital workers, and calling senior citizens facing social isolation, you have proven our readiness to set up and serve as exemplary leaders. To the Class of 2020, we did it."
This year was Barbara L. Bass's first graduation address as the Dean of SMHS. In her remarks, Dean Bass, MD, RESD '86, compared the impact COVID-19 will have on the graduates to another epidemic — HIV/AIDS — that swept the world as she was completing her residency training at GW.
Then, like now, physicians on the frontlines armored themselves with layers of personal protective equipment and put aside their concerns about personal exposure to enter clinic rooms and operating theaters to care for their patients. Just as the AIDS epidemic revealed the humanity and suffering of a marginalized group, Bass noted, COVID-19 has revealed stark and ugly truths about race, social determinants of health, and access to health care. 
"This dreaded COVID disease offers a great tragic revealing … that our communities of people of color are bearing a far greater burden in this pandemic. It is our responsibility to address these disparities — to codify, to address, and to remedy these inequities."