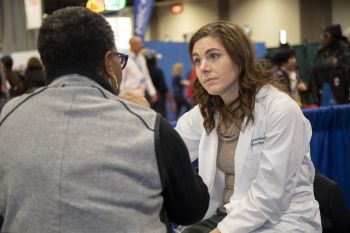 Thousands of attendees streamed through the Walter E. Washington Convention Center in January to take part in the NBC4-Telemundo44 Health & Fitness Expo, which included an exhibit from the George Washington University (GW) — the GW Health Village.  
The exhibit, hosted by the GW School of Medicine and Health Sciences (SMHS), GW Hospital, and the GW Medical Faculty Associates, featured presentations from several health experts as well as screenings for balance assessments/fall prevention, blood pressure, foot and ankle issues, oral cancer, and more.
In addition, SMHS student volunteers put their education into practice at the expo, taking advantage of the opportunity to interact with patients in the community.