Vaccine Ambassador Initiative Helps Ease Fears and Dispel Myths about the COVID-19 Vaccine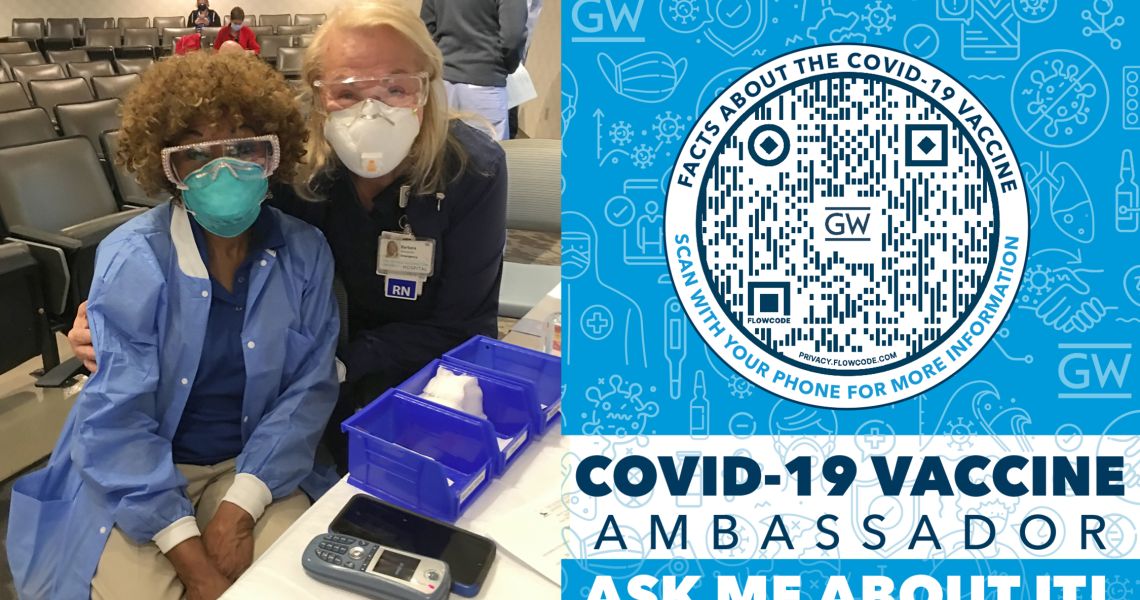 Audrey Mason is like most people, COVID-19 scares her. The environmental services technician in the George Washington University Hospital (GW Hospital) Emergency Department (ED) knows the impact the virus is having on the community. She has seen first-hand the devastation the virus can cause, as waves of COVID-19 patients flow through the doors of GW Hospital in acute respiratory distress.
Making it all the more frightening, she and her husband, Phillip, fall squarely in the high-risk age demographic. Still, as troubling as the rising infection and fatality rates are — roughly 24.4 million cases and more than 400,000 deaths by Jan. 20, 2021— the prospect of getting vaccinated left Mason equally unsettled.
"I didn't want to get the shot," said Mason. "I thought that maybe I might get it from getting the shot."
Mason has one thing most Americans don't, an inside connection into the COVID-19 vaccination process. For her, that made all the difference. For more than six years, Mason has worked with Barbara Neiswander, RN, a certified emergency nurse at GW Hospital for more than 25 years. Neiswander was also the first member of the GW health care community to receive the Pfizer-BioNTech COVID-19 vaccine on Dec. 14, 2020.
"Barb came to me and asked if I planned to get the COVID-19 shot," said Mason. "I told her 'no.' She asked why not and I said that I was kind of afraid."
Mason explained that she was concerned that the vaccine might give her COVID-19. The two talked several times about the vaccine, how it worked, why it couldn't transmit the virus, as well as Mason's risk due to age and exposure levels. Eventually, Neiswander won her over. On Dec. 24, 2020, Mason received her first dose of the vaccine, and she received her second and final dose Jan. 14.
"I'm glad that I did get it, thanks to Barbara," Mason added. "With me working in the ED with the COVID-19 patients, I go in rooms every day, so I thought maybe it would be best to get the shot."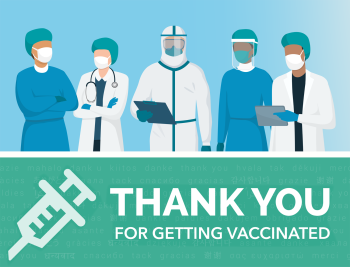 Understanding that such first-person connections can be an effective means of allaying fears and changing minds, the GW clinical enterprise — GW Hospital, the GW Medical Faculty Associates (GW MFA), and the GW School of Medicine and Health Sciences (SMHS) — began reaching out on Jan. 4, to newly vaccinated members of the GW community to serve as GW COVID-19 Vaccine Ambassadors.
Since its launch, interest has been overwhelming. Between the GW Hospital and the GW MFA more than 200 clinical staff have signed up to be part of the program. The goal is to share first-hand experiences of receiving the vaccine.
"I think it's important for people on the ground to be the leaders and promote these vaccines, sort of like a grassroots movement," said Sean Chester, MD, clinical instructor of emergency medicine at SMHS, and an emergency medicine physician with the GW MFA, who was among the first members of the GW health care community to receive the COVID-19 vaccine. "Having your physician, your nurse, your physician assistant, somebody you trust with health care, with that badge signaling they're someone you can ask questions," will go a long way toward dispelling rumors and myths, and alleviating concerns.
Members of the GW health care community who already have been vaccinated may sign up to be an ambassador. Participants receive a small tag to add to their staff ID badges to indicate they are able to speak with peers or patients about the vaccine experience as they go about their regular daily routines. The badges include brief facts about the vaccine, those who should and should not get the Pfizer-BioNtech vaccine (the vaccine currently available at GW), as well as some mild but common side effects. They also include a QR code to link people to GW's COVID-19 Vaccine information website.
"If you see someone wearing one of these tags in your work environment, and you are concerned about taking the vaccine, please ask them questions," said Barbara L. Bass, MD, RESD '86, vice president for health affairs, dean of SMHS, and CEO of the GW MFA, during a townhall where the vaccine ambassador initiative was announced. "Whatever good information we can provide, knowing this is a personal decision in the end, is really what these ambassadors are for."
"I think because I was the first health care provider at GW Hospital to get the vaccine, I'm recognized. Most people in the hospital know me by sight," said Neiswander. She added that once people step up to be vaccinated, they automatically become unofficial ambassadors anyway, so she was eager to help spread the word.
Although she plans to keep her own role as an ambassador informal, Mason said she has already converted a few among her circle of friends, colleagues, and family members. "I told several people that I got the vaccine and some of them have decided to get it too. I talked to my daughter about it and she is talking about getting vaccinated as well, when it's available for her.
"This virus is real," Mason said. "I hope that everybody gets the COVID shot."
If you are interested in being a COVID-19 vaccine ambassador, please visit the website gwdocs.com/vaccine-ambassador.