Health care is a constantly changing industry, and many advances are moving the field in directions previously unimagined. Amid these changes, the George Washington University (GW) School of Medicine and Health Sciences (SMHS) is focusing on filling workforce gaps and helping health care professionals develop skills that will drive their organization forward and continuously improve health care.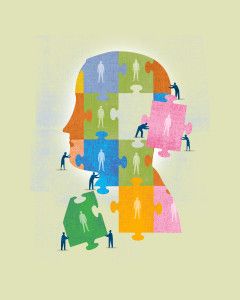 "We are constantly responding to the workforce needs and addressing gaps in health care and translational science fields," says Reamer Bushardt, PharmD, PA-C, senior associate dean for health sciences at SMHS. "GW is a global leader in training health and research professionals who are on the cutting edge of their disciplines."
GW's health sciences, a vibrant division within SMHS, is well known for the academic programs it offers to students interested in becoming physician assistants (PAs), biomedical laboratory scientists, and physical therapists, but a wide array of additional programs within the division focus on giving working professionals a stronger skill set and the specialty training they need to advance in their career and evolve with the health care industry.
Bushardt says health sciences faculty and staff work closely with national professional associations and large health care employers, the types of organizations that best understand current and evolving workforce needs.
One such group SMHS has a close relationship with is the American Academy of Physician Assistants (AAPA). Through the AAPA Center for Healthcare Leadership and Management (CHLM) Degree Pathways Program, SMHS is able to help PAs advance their careers with programs offered at discounted rates in clinical operations and management, clinical and translational research, health care quality, and integrative medicine. SMHS faculty members also regularly collaborate with regional government officials and economic development agencies to understand workforce priorities and skill gaps in the community.
"Developing different trajectories for a profession, or building on the future of health care professions, can help practitioners get ahead of the curve and understand where the industry is going," says Leslie Davidson, PhD, chair of the Department of Clinical Research and Leadership and associate professor of clinical research and leadership at SMHS.
Davidson says any organization should have workforce development as a top priority, but especially universities. "With technology advancing so rapidly, and with the need for big data and analysis of information, there's a different type of worker needed with a different type of skill set. Universities can ensure these competencies are achieved — and we are primed here at GW to do that."
In the programs offered at SMHS, health professionals can make as big or as little a commitment to their development as they want. They can do something as simple as listen to a podcast, attend a webinar, or take part in a workshop, or take the bigger step of earning a certificate or participating in a master's or doctoral program.
These kinds of offerings don't just give people in the health care workforce the tools to move forward in their career, Davidson says, they're also essential in making sure the industry can meet the needs of its community locally, nationally, and globally. "To have different stakeholders all have their hand in the development process is really critical for it to be successful," she says, "and we are committed to this approach for developing curricula at GW."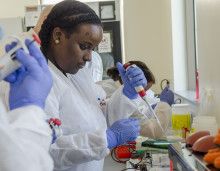 SMHS faculty in the health sciences are also involved in workforce development programming through the Clinical and Translational Science Institute at Children's National (CTSI-CN). The CTSI-CN was established through the Clinical and Translational Science Award, given to 60 major U.S. research institutions by the National Institutes of Health (NIH). GW and Children's National originally earned the award in 2010, and in 2016 the partners received a five-year extension.
Translational workforce development is a vital area in the partnership, which has included creating workshops, courses, programs, individualized career development activities, and other on-demand training to support the clinical and translational workforce.
"Many individuals within our community must come together to accelerate clinical and translational science, including scientific investigators, research staff, trainees, regulators, and the public," says Bushardt, who also serves as director of translational workforce development for the CTSI-CN. "Our translational workforce development programs bring these individuals together, support their development into teams, and provide the necessary skills to translate knowledge into interventions and health services that make a positive difference in the lives of patients and families."
An area of interest that students, clinicians, researchers, and fellows want addressed in their training is biostatistics and bioinformatics. They are interested in obtaining hands-on approaches to analyzing data, says Samar Nasser, PhD, MPH, PA-C, associate professor of clinical research and leadership and director of the Clinical and Translational Research Program. To meet that need, workshops were designed and implemented with subject matter experts in biostatistics, health informatics, and artificial intelligence.
In the programs offered at SMHS,
health professionals can make as big or as little
a commitment to their development as they want.
"We held these workshops either at Gelman or Himmelfarb Library, and we'd show the trainees how to analyze their data with the help of statisticians from GW and Children's National. In the morning, attendees learned how to input their data into an analysis program and by the afternoon were actually running their data and analyzing the results," Nasser says. By the end of the day, she adds, attendees were able to go back to their offices and know how to analyze their data on their own to move their research projects forward.
Another workshop focused on informatics and artificial intelligence, including how advanced analytical techniques can be applied to clinical research. Three informatics specialists were called in to help workshop attendees apply big data to their work. "These workshops were very successful, and students and trainees have asked for more, so we're hoping to do another," Nasser says. "Considering new applications like natural language processing, for example, can lead to innovative thinking and help expand the potential impact of the research our trainees are conducting.
"We're all about being hands-on with the training and the professional development we provide. We want to make sure that it's translational and can take people to the next level in their work," she explains. Even at the most basic level, leaders are eyeing the health care marketplace and ensuring that when students leave GW they are ready to fill current workforce needs.
"We are rapidly adapting and adopting curriculum and program offerings," Bushardt says, "to ensure our graduates are competitive and prepared for a dynamic health care workforce."
He adds that, much in line with GW's new common purpose statement — "Only at GW, we are changing the world one life at time" — SMHS is changing the world through individualized workforce development, one student at a time.