Major Gift by Ruth Uppercu Paul Funds Genetic Counselors and Patient Assistance Support
Those who know Ruth Uppercu Paul best recall a warm smile and a twinkle in her eye. "She had a wonderful sense of humor and a quick wit," says Christine Clemens, a close friend of Paul's for more than two decades. "She was a great conversationalist who would regale us with tales of her youth and her travels." The vibrant individual whom Clemens remembers hasn't been present since a debilitating stroke in 2012, but she is far from forgotten by those whose lives she touched — a list that will now include countless women at high risk for breast and ovarian cancer, as well as persons with hearing impairment.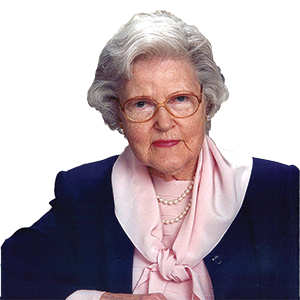 Paul's generous $1 million gift to the High-Risk Breast and Ovarian Cancer Clinic at the George Washington University Medical Faculty Associates (MFA) will enable the clinic to fund two genetic counselors and provide patient assistance support for genetic screening and counseling. The Ruth Uppercu Paul Cancer Prevention Fund, which is administered by the Dr. Cyrus & Myrtle Katzen Cancer Research Center at GW, may also be used to outfit new multidisciplinary space for the program.
"This donation is integral to achieving our dual goals of establishing a program for clinical care for women at high risk for these two malignancies and of contributing more extensively to research in the field," says breast care specialist Rebecca Kaltman, M.D., assistant professor of medicine in the Division of Hematology and Oncology at GW's School of Medicine and Health Sciences (SMHS). "The genetic testing that we're doing is even more complicated than BRCA 1 and 2 mutations, so having specialized genetic counselors is crucial."
Paul, who turned 97 years old in March, successfully battled both ovarian and breast cancer in her late 80s, while under the care of Jeffrey Lin, M.D., clinical professor of obstetrics and gynecology at SMHS. "She was an extraordinary combination of determination and gentleness," says Constance U. Battle, M.D. '67, a friend and former colleague of Paul's for more than 40 years, who now serves as her health and legal representative. "Ruth was most appreciative of being helped when she personally experienced ovarian and breast cancer. Subsequently, she became interested in helping others find out about their diagnoses earlier," explains Battle, who is a clinical professor at SMHS as well as an adjunct professor in the Department of Prevention and Community Health at GW's Milken Institute School of Public Health.
"Ruth is very much a giver, as well as a doer," says Sally Smith, former fundraising and public relations officer, who worked closely with Paul during her tenure on the board of directors at the Hospital for Sick Children in Washington, D.C., now the HSC Pediatric Center. "She was a woman of independent means who found life engaging and used her wealth to better the lives of others," Smith says.
A native of New York, Paul attended Kent Place School in Summit, N.J., and Smith College in Northampton, Mass. During World War II she served as a political research analyst with the Office of Strategic Services, the predecessor to the Central Intelligence Agency (CIA), and later as a CIA operations case officer. "I always had the sense that she had been a groundbreaker," Smith says.
After experiencing profound hearing loss during middle age, Paul and her twin sister, Miriam Leslie, took part in a national twin study about hearing loss. "Ruth had great empathy for those who were unable to hear," says Battle, "as evidenced by her gift of $450,000 to create the Ruth Uppercu Paul Fund for Hearing Health and Rehabilitation at the MFA's Division of Otolaryngology and Neurotology." The fund supports the division's Comprehensive Hearing Center in its efforts to treat patients who do not have the financial resources to cover services, such as cochlear implants and hearing aids. Paul has also elected to donate her temporal bones to research upon her death.
"We're so incredibly grateful to Ruth Paul for having this vision with us to offer an amazing service for our patients," says Kaltman. "She is providing a truly great service to GW and our community."