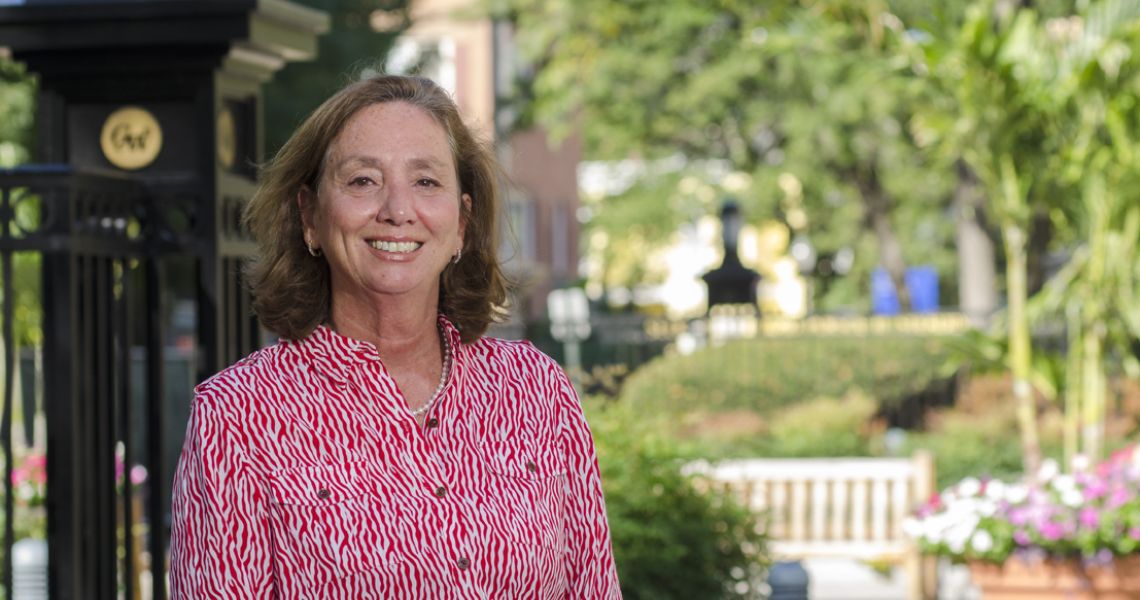 After more than four decades at the George Washington University (GW) School of Medicine and Health Sciences (SMHS), Lisa Mustone Alexander, EdD '03, MPH '89, PA-C '79, is retiring from GW, but not from her role as a leader, educator, and advocate for the Physician Assistant profession.
In her time at GW, Alexander has been a student, a faculty member, clinician, and an administrator, all while eagerly advocating for the program and the profession. She'll be drawing on all of those experiences as she heads to the next step in her professional life, moving to Dublin, Ireland, to serve as director of a recently established Physician Associate program at the Royal College of Surgeons in Ireland (RCSI).
"I didn't think I'd be able to sit back and do nothing in retirement, so this opportunity came at a perfect time," Alexander explained. "It's a big move for me, but I'm ready for it! After more than 40 years at GW, I think a change in scenery is in order."
During her tenure at SMHS, Alexander has gone from studying in the school's then-fledgling Physician Assistant Program — she was among the fifth cohort of PAs entering SMHS in 1977 — to teaching in the program and later twice serving as its director.
"It's difficult to overstate the effect Dr. Alexander has had on the GW PA program and PA education in general," said Maura Polansky, PA-C, chair of the Department of Physician Assistant Studies at SMHS. "Her commitment to service, leadership, and advocacy are an inspiration to our students, alumni and faculty. She embodies the mission of the GW PA program to prepare physician assistants who demonstrate clinical excellence; embrace diversity, equity and inclusion; advocate for their patients; lead and advance the profession; and serve their communities."
In 1982, Alexander joined the health sciences faculty, and her energy and enthusiasm soon made its mark on the evolution of GW's PA program and the innovation of its curriculum. Between her terms as director of the PA Program, first from 1989 to 1997 and again from 2011 to 2015, Alexander held leadership roles, including serving as assistant dean for community-based partnerships, director of the GW/PA Clinical Leadership Distance Education program, and director of the GW/D.C. Area Health Education Center. She is a passionate advocate for health equity and access to care, serving as the first faculty adviser to the school's inter-professional, student-run GW Healing Clinic since its inception in 2007.
Like many GW PA faculty, past and present, Alexander has established herself as a leader in the profession, advocating for its expanded role in the health care enterprise. In spring 2017, Alexander was elected to serve as president of the Physician Assistant Education Association. She has also served as president of the Physician Assistant Foundation Board of Trustees.
Beyond her efforts guiding professional organizations in the United States, she also is a member of the International Academy of PA Educators and provides consultation and expertise to faculty from PA programs around the world. As a Fulbright Senior Specialist to the Rwandan Ministry of Education from 2009–10, Alexander led a feasibility study to determine whether a PA model could meet Rwanda's extensive post-genocide health workforce needs. Following the study, she collaborated with ministry officials and faculty at the Kigali Health Institute to develop a curriculum to train a cadre of clinical officers, the East African nation's equivalent to PAs. The program has since become part of the University of Rwanda's academic portfolio and trained more than 200 clinical officers. In March 2020, the university hosted the 2nd annual international conference for PAs and clinical officers attended by Alexander, fellow GW faculty member Howard Straker, EdD '18, MPH, PA-C, director of GW's PA/MPH program and assistant professor of physician assistant studies, and Christine Hedstrom, PA/MPH '20, who previously served as a Peace Corp volunteer in Rwanda.
So, when the opportunity to lead the PA program at RCSI on a 3-year contract came up, Alexander jumped at the new challenge. "It just felt right, like a great opportunity."
Many of the physicians at RCSI, including James Paul O'Neil, MD, MBA, associate professor of otolaryngology head and neck surgery at RCSI, who serves as the medical director of the PA program, spent time in the United States for fellowships and other training, where they had an opportunity to work with PAs. When they returned to Ireland, O'Neil and others were eager to add a PA program to the RCSI academic offerings. To date the program has graduated four classes.
"It's all very exciting," Alexander said, "to learn about a new health care system, advocate for the full inclusion of PAs into their health care system, and help inspire the next generation of PAs in Europe to experience opportunities for personal growth and contribute to high-quality patient care."
Her doctoral research focused on the evolution of the identity of PA profession. One of the facets that emerged from that work was the notion of the physician champion, or leaders who coordinate improvement efforts between fellow clinicians and other members of the health care team.
"That's all playing out in Ireland," said Alexander. She noted that O'Neil is a key physician champion in Ireland, where PA studies is not just a fledgling program, but also an emerging profession. "They wanted an American to lead the program, because we've already fought these fights and successfully advocated for recognition and professional credibility."
Currently in Ireland, PA is not an officially recognized profession. Alexander's background building the profession's legitimacy in the U.S. will be an important asset to the growing the program at RCSI.
"I feel like I did when I was 22, a trail blazer," she said. "I felt like there was a place for this profession to really improve the quality of care that people receive. No doubt about it.
"I want to make sure the program at RCSI develops a reputation that is equal to the reputation that I was able to have a small part in creating at GW. In my interview, I told them that I wanted RCSI's program to become the world-class leader in PA education on the European continent," she added with a laugh, "it might take more than three years though."