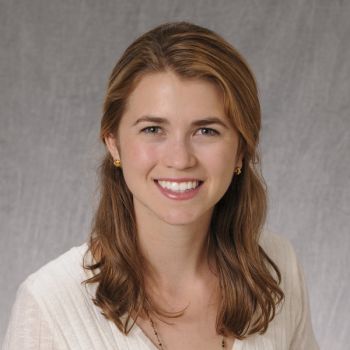 Louisa Howard, fourth-year MD student at the George Washington University (GW) School of Medicine and Health Sciences, was selected as a 2020 Pisacano Scholar.
Each recipient of the scholarship is an outstanding medical student who has made a commitment to enter the specialty of family medicine. The scholarships are awarded to students attending U.S. medical schools and provide educational programs, leadership training, and funding. Howard is the first GW student to receive the scholarship; only six students in the nation were chosen out of 2,850 applicants.
Howard entered medical school knowing she wanted to promote the field of family medicine to her peers and she served as the president of GW's Family Medicine Interest Group. She said it is especially important to her that she help students become more exposed to the unique aspects of the specialty. 
"I'm very excited that continued student and faculty advocacy has led to GW's newly established Division of Family Medicine," she added. 
Howard also served as a Regional Coordinator for the American Academy of Family Physicians (AAFP) Student Network and is currently the student member of AAFP's Commission on Continuing Education and Professional Development.
Originally from San Antonio, Texas, Howard attended the University of Virginia (UVA) and graduated with distinction, majoring in art history and minoring in bioethics. After a post-baccalaureate fellowship at the National Institutes of Health (NIH), she received the President's Scholarship to attend King's College London for her Masters in Bioethics. 
She later spent two years as a clinical research fellow in the National Institute of Allergy and Infectious Disease at the NIH, working in Anthony Fauci's Laboratory of Immunoregulation, supporting an investigational medication trial for the treatment of Hepatitis C in patients co-infected with HIV.
In addition, while in undergrad, she helped lead the UVA Hospital's student volunteer program. Her junior year, she received a grant to fund an interdisciplinary project, Clinician's Eye, which brought medical students to the Fralin Art Museum with the goal of refining students' observation skills and tolerance for ambiguity. Enthusiastic about the prospect of leading a program like Clinician's Eye at GW, Louisa collaborated with a fellow classmate and the curator of GW's art collection to host similar programming. 
To be awarded the Pisacano scholarship, applicants must show demonstrable leadership skills, superior academic achievement, strong communication skills, identifiable character and integrity, and a noteworthy level of community service. 
The Pisacano Leadership Foundation Inc. was created in 1990 by the American Board of Family Medicine in tribute to its founder and first executive director, Nicholas J. Pisacano, MD. Pisacano is acknowledged around the world as one of the leaders in the effort to recognize family medicine as a major specialty.