The 45th Session of the Committee on World Food Security, hosted by the United Nations (UN) Food and Agriculture Organization in October 2018, convened global delegates, policy experts, and nutrition scientists to hold discussions on food security and nutrition in the context of the 2030 Agenda for Sustainable Development. Harleen Marwah, a second-year medical student at the George Washington University (GW) School of Medicine and Health Sciences, traveled to Rome for these meetings to advocate for the needs of patients around the world.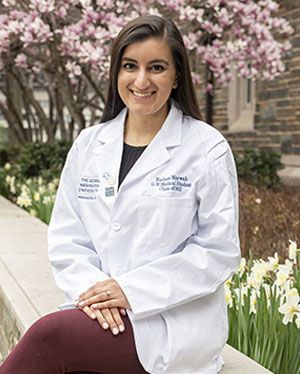 Marwah was selected to attend the conference with a delegation from Planet Forward, a project with the Center for Innovative Media at the GW School of Media and Public Affairs, after participating in a national storytelling competition on innovations to combat global hunger. In Rome, she had the opportunity to meet with policymakers and develop insight on how to be an effective physician-advocate.
Growing up in suburban Los Angeles, in a family of health care professionals, Marwah always had an interest in medicine. During her undergraduate and graduate studies at the University of Southern California, she confirmed that a dedication to social justice could align with a career in medicine.
Whether it was in the classroom or out in the communities she was working with, Marwah recognized the value of tracking patterns and looking upstream in patients' health care journeys to identify early interventions and solutions that could reach patients outside the clinics and help them lead healthier lives.
"While my passions for public health and social justice were developing, I saw the importance of each individual's story," says Marwah. "That is what led me to this career path where I have the privilege to practice clinical medicine and support individuals along their journeys, while also being cognizant of trends and patterns that may someday translate into a useful policy or initiative that can transform many lives."
Marwah has a particular interest in the relationship between health and climate change. She points out that although climate change will certainly impact everyone, it will disproportionately affect some of the world's most vulnerable populations.
In 2014, Marwah was selected to be a United States delegate to the Conference of Party (COP) negotiations run by the UN Framework Convention on Climate Change (UNFCCC) in Lima, Peru. The following year, she was a delegate in Paris for the COP21, where the UNFCCC finalized the Paris Agreement.
"It was inspiring to observe and participate in that process over the course of the year from Peru to Paris," Marwah says. "The conversation went from 'Is there a link between health and climate?' to 'There is undoubtedly a link between health and climate.' "
Prior to medical school at GW, Marwah worked with a health policy consulting firm in Washington, D.C., analyzing federal health care policy and creating business strategies for stakeholders across the full spectrum of health care.
When applying to medical school, Marwah was drawn to GW's commitment to creating 21st-century physicians.
"To me, that is so important. I think our role as physicians and our responsibility to our patients extends beyond the clinical setting," she explains. "We are leaders in the community and it is a privilege to care for our patients. When we are in a position where we can make a difference, it is important that we advocate for our patients and ensure their needs are met with action."
When Marwah thinks about the future, she says she looks at her colleagues and is full of hope. "Being a medical student at GW, I am inspired by my classmates. It's motivating and refreshing to be part of a community dedicated to a greater purpose."