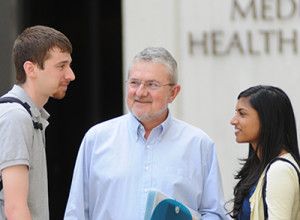 Frank Slaby, PhD, professor of anatomy and cell biology at the George Washington University School of Medicine and Health Sciences (SMHS), passed away March 18, 2019.
He was an important part of the SMHS family for more than four decades, and played a significant role in the education of thousands of students.
"[Frank Slaby] was a person of integrity and decency, and a model citizen of the school and the university," said Jeffrey S. Akman, MD '81, RESD '85, vice president for health affairs, Bloedorn Professor of Administrative Medicine, and dean of SMHS. "He was always looking for creative ways to teach his students and his contributions were central to the development of our multiple curricula. He cared deeply about his students and their success and thrived on improving medical education."
Slaby is survived by his wife of 35 years, Susan McCune, MD, their son, Christopher, and Slaby's brother, Robert Slaby.