Former Dean and Professor Emeritus Robert I. Keimowitz, M.D., died March 25, 2016, 10 days before his 77th birthday. A beloved member of the GW community, Keimowitz joined the School of Medicine and Health Sciences (SMHS) faculty in 1970 and served in many roles at the school, including as assistant dean for admissions, dean for academic affairs, and dean.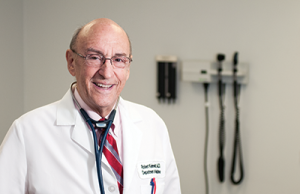 He was admired and respected by those who knew him, and he made a significant impact on the lives of his patients, his students, and the faculty and staff whom he served and mentored. He was dedicated to the practice of medicine and remained an active member of the GW community long after he retired as dean. Until recently, Keimowitz supervised medical students in the clinical setting as a preceptor and saw patients at the GW Medical Faculty Associates.
"Bob Keimowitz was a great leader for SMHS," said Jeffrey S. Akman, M.D. '81, RESD '85, vice president for health affairs, Walter A. Bloedorn Professor of Administrative Medicine, and dean of SMHS, for whom Keimowitz served as a mentor. "A caring and brilliant physician who was deeply dedicated to his students, he leaves a lasting legacy through his changes in the M.D. admissions process and curricular innovation, through his mentorship of current SMHS leadership and faculty, and through the thousands of alumni whom he taught, advised, and encouraged."
His love for medicine was evident, and he considered one of his greatest accomplishments at SMHS to be his overhaul of the admissions process and a curriculum revamp in 1993, which included the development of an innovative new medical education program called "The Practice of Medicine."
During a fall 2012 interview with Medicine + Health magazine, Keimowitz said, "My identity is completely tied to medicine. In addition to filling my personal interest in helping people, it merges absolutely fascinating science, and it's wonderful to watch the science advance. So I keep phasing out, but never completely stopping, because I love it."
Keimowitz was born and raised in upstate New York and earned his bachelor's, master's, and medical degrees in the 1960s from the University of Vermont. He studied renal physiology at the National Institutes of Health before joining the SMHS faculty. He is survived by his wife, Hazel, their two daughters, and four grandchildren.