M. Chiara Manzini's curiosity was piqued when she met a set of new patients.
"The patients were very short, and they had skeletal deficits," explains Manzini, Ph.D., an assistant professor at the George Washington University (GW) Institute for Neuroscience and the Department of Pharmacology and Physiology at the GW School of Medicine and Health Sciences.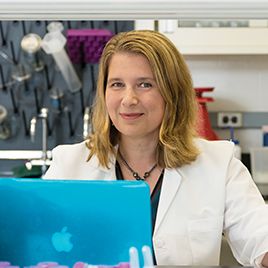 In the severe forms of congenital muscular dystrophy she studies, patients typically present with progressive muscle weakness as well as intellectual disability and vision issues such as cataracts. The additional characteristics her patients displayed, however — short stature and unique skeletal features — were highly unusual.
Manzini collaborated with scientists from around the globe, and they discovered that the removal of a specific gene, INPP5K, resulted in the muscle disruption, lens disruption, and smaller brain that she had observed. In other words, Manzini and her fellow researchers had discovered a new type of congenital muscular dystrophy. The group has since published two papers and is working to better understand how the INPP5K gene functions in the muscle and the brain.
"The gene is very interesting, so we're definitely going to keep pursuing it," Manzini says. "Hopefully, it's going to be interesting to other people. From a science standpoint, it's a different mechanism from what had been previously looked at in these disorders. It may change the way we think about them."