As we celebrate the residency match and graduation, I am moved by the potential our graduates have to make a significant and lasting impact on the communities they will go on to serve. We offer our students a world-class education, but it is also important for the GW School of Medicine and Health Sciences (SMHS) to engage you, our alumni community, in order to maintain that stature. You are an essential element in the culture of our school. It is the editorial mission of Medicine + Health to keep you abreast of the wonderful things taking place at SMHS and to inspire you to continue to be a part of the excitement.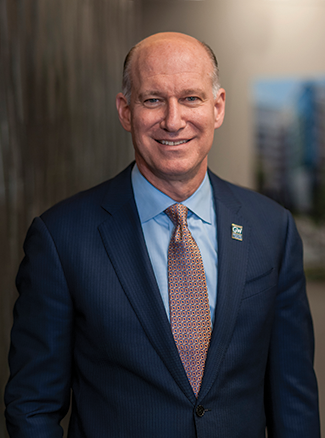 Whether that inspiration comes in the form of a donation to the scholarships we offer new students, or in the form of motivating you to return to campus for your reunion weekend, we want to move you from being a reader to being an active participant in your SMHS community.
As the dean, I am focused on increasing scholarships for our students because student debt is a critical issue of increasing concern. I am convinced that we must ease the financial pressure our students experience as they pursue their education in the fields of medicine and the health sciences.
This spring, we were grateful to receive several gifts earmarked for student scholarships. Some examples of this generosity include a gift from the late Stanley F. Kulaga Jr., M.D. '64, who bequeathed $1 million to establish an endowed scholarship, and a gift from the late Bennet A. Porter Jr., M.D. '53, who donated more than $921,000 for unrestricted use, which I designated for current-use scholarships for medical students. In January, we also had the good fortune to award $100,000 scholarships to a pair of medical students pursuing careers in primary care — these gifts were given by two grateful patients. We are celebrating these generous donations, and others that have been given for a wide range of activities, because we are extremely grateful for the support we've received from our friends and alumni. At the same time, it is my hope to expand that support in the weeks, months, and years ahead.
As an alumnus, I designate most of my charitable giving to SMHS to support student scholarships through the Bryan J. Akman Fund, a need-based fund that I created in my brother's memory, and to the Leonard Akman, M.D. '43, Fund, which supports travel expenses for medical students on the global health track. This year, I also contributed to the Robert I. Keimowitz, M.D., Fund, a need-based scholarship fund created to honor our former dean.
As both the dean and as an alumnus, I truly appreciate the support of each donor. I look forward to enhancing our scholarship funds for our students to help them accomplish their goals of becoming world-class doctors and health sciences professionals.
Warmest Regards,

Jeffrey S. Akman, M.D. '81, RESD '85
Walter A. Bloedorn Professor of Administrative Medicine Vice President for Health Affairs and Dean, School of Medicine And Health Sciences