Dear GW friends and colleagues,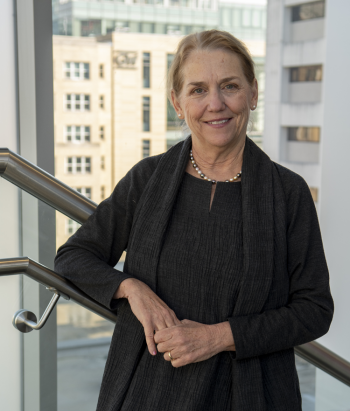 Since joining the George Washington University (GW) School of Medicine and Health Sciences and The GW Medical Faculty Associates in January, 2020 has been a whirlwind of activity. While it has not exactly been the kind of activity I was expecting, it has definitely been filled with exciting and daunting new experiences. In the articles of this online magazine, you will read about many of the obstacles we have faced and how we've worked to clear them together, one by one.
In this letter, I want to focus on the future. I want to share the incredible momentum and energy I feel from our researchers, our learners, and our health care teams. I am inspired by their optimism, their innovation, and their drive to ensure that service to our patients, in each of our professional domains, always come first. And, while we can't predict the future, I can tell you that we do envision extraordinary things for our great institution.
Not long ago, we welcomed many of our students back to the clinics and classrooms. Though our campus and educational environments do not look quite like last year, the new academic year has taken on a resilient form of its own! Our students returned to the clinics for rotations and we are rolling out innovative virtual and hybrid programming to deliver on our mission to educate a diverse workforce of tomorrow's leaders in medicine, science, and health sciences.
And, while COVID-19 has put a damper on so many aspects of our lives, in health care it has created a "Super Bowl" of innovation and advances in critical care and unleashed a remarkable level of discovery and translational applications in our clinics and laboratories. Our researchers and doctors have already learned so much about this disease, and we will continue to learn as active participants in the search for treatments and a vaccine. All facets of the scientific community are concurrently studying this virus, and discoveries and technologies are quickly emerging. This is a crucial moment in medicine – we are truly living in historic times and I am mindful that for the next generation of health care providers we are creating here at SMHS, the impact of this pandemic will shape the arc of their careers for decades ahead.
The COVID-19 pandemic has also highlighted the vast inequity that remains in our nation for people of color. We have seen a disproportionate disease burden on these communities, as they have been harmed by COVID-19 both in rates of infection and severity of disease and deaths. These factors are driven by the wide array of structural inequities in housing, employment options, health care access, and many other measures – and it is a priority for us, as individuals and as an institution, to work to remedy these disparities. Additionally, our community has been shaken by the persistent racial injustice in our nation, evidenced on many fronts with tragic losses of black men and women. These events have shaken of our community , and served as a catalyst for change at our institution. We are committed to working to resolve these inequities and to intercept the harmful effects of ongoing racism with the formation of the GW academic medical enterprise's Anti-Racism Coalition to foster anti-racism in our community and to influence national and local policies through advocacy.
We will emerge from this better than we were before, and I know the horizon is bright. I have said before, we are an institution with big goals, high expectations, and important missions. Through our shared purpose and recognition of our unique opportunity to serve our communities, we will accomplish all we set out to do.
We will continue to educate. Training the next generation of doctors and health care professionals is truly the foundation of who we are. We will continue to care for our patients through innovation coupled with excellence in delivery. And we will continue to put our patients first each day. Through our research, on the forefront of breakthroughs in discovery and translation, we will continue to foster curiosity and creativity in our quest to resolve unanswered questions and needs. Finally, we will always promote excellence through inclusion, service, and advocacy – lifting everyone up to the same level of access and opportunity, and the same expectations for success.
I have great hope for the future. I recognize that 2020 has been, by many objective measures, simply a bad, and yes unprecedented, year. But my focus will remain on the strength and goodness of our SMHS community and the missions we serve. I focus on the brightness that I see on the horizon. We are leaders, and it is our time to lead through our current crises, as well as those that will arise along the way in the days ahead. From these experiences, I know that we will emerge stronger than ever before.
With my gratitude for the honor to lead this institution,
I remain sincerely yours,

Barbara Lee Bass, MD
Vice President for Health Affairs
Dean, GW School of Medicine and Health Sciences
Professor of Surgery
CEO, The GW Medical Faculty Associates