Dear colleagues and friends,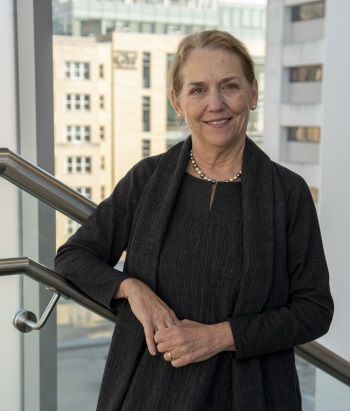 It is a great honor for me to present to you this Spring 2023 edition of Medicine + Health, our first print magazine since 2020. Like the rest of the world, SMHS faced many challenges during the darkest of COVID days. Thankfully, we are now back and ready to share with you the advances, changes, and accomplishments of our faculty, students, staff, trainees, and teams that are happening every day as we pursue our missions in education, research, clinical care, and community service.
This past summer, the George Washington University and Universal Health Services, who owns the GW Hospital, reached a new affiliation agreement between our school, our faculty practice organization, and our hospital partner. This modernized and equitable agreement promises to have a great impact on our future as a leading academic medical enterprise. The agreement aligns our shared goals of becoming an integrated health system and a premier academic medical enterprise in the nation's capital city – our home city – with investments in our clinical and academic missions to achieve scale, program expansion, and excellence.
The agreement is particularly timely as we anticipate the opening of the new Cedar Hill Regional Medical Center. The new medical campus will provide closer-to-home care for citizens living east of the Anacostia River, and serve as a new practice site for our faculty and health care teams. It will be integrated with the Foggy Bottom campus, offering a new learning environment for our students and trainees, including a new department of family medicine and a family medicine residency program. More on this exciting program to come!
The hospital agreement also resulted in the creation of 14 new endowed professorships at George Washington University. These professorships, nine of which will be in SMHS, were established to recruit acclaimed scientists and physicians to enhance the capabilities and programs of the academic medical enterprise. First among these new professors is LaQuandra Nesbitt, MD, MPH, who joined SMHS in November to launch the Center for Population Health Sciences and Health Equity. Dr. Nesbitt was installed as the inaugural Bicentennial Endowed Professor of Medicine and Health Sciences earlier this semester. She will establish a data-driven academic center for applied population health research and practice to address health inequities.
As we know too well, the pandemic and our still-evolving recovery has led to great ongoing stressors for those working in health care and education. Thanks to support from our philanthropic donors, we recently launched two programs to provide necessary assistance for our community: the SMHS Center for Resiliency and Well-Being, under the leadership of Lorenzo Norris, MD, associate dean for student affairs and administration, and associate professor of psychiatry and behavioral sciences; and the Office of Professional and Respectful Learning, under the leadership of Jennifer Keller, MD, MPH '07, RESD '07, associate professor of obstetrics and gynecology.
Our SMHS Office for Clinical Research under the guidance of Mardi Gomberg-Maitland, MD, professor of medicine, is also up and running with an ever-expanding portfolio of human studies to advance the care we offer our patients. In the basic sciences, our federally funded discovery laboratories have exceeded all prior years of funding, as we recruit more top tier scientists and open beautiful research labs in Ross Hall.
Finally, on the cover of this edition is Julie Bauman, MD, MPH, who joined the university in March 2022 and is leading our GW Cancer Center. Under Dr. Bauman's leadership we have recruited new clinical trialists and national leaders in medical oncology, and we are on the road to becoming an NCI-designated Comprehensive Cancer Center in the years ahead to serve our city and region.
These accomplishments — driven by our SMHS faculty, staff, students, and trainees — are exciting and inspiring, and they predict an exceptional future for our academic medical enterprise. I truly am humbled and honored to be a part of this community that inspires me every day.
With gratitude for your ongoing engagement with GW SMHS and my best regards,
Barbara Lee Bass, MD, RESD '86, FACS
Professor of Surgery
Walter A. Bloedorn Chair of Administrative Medicine
Vice President for Health Affairs
Dean, SMHS, and
CEO, The GW Medical Faculty Associates