As a child growing up in a small village in western Paraguay called Santa Rosa, Cheralyn Hendrix, M.D., recalls standing by her father's side as he sewed up a gash from an ax wound on the palm of a 12-year-old boy's hand, and spending mornings and afternoons with her mother as she provided aid to the community of 150 people.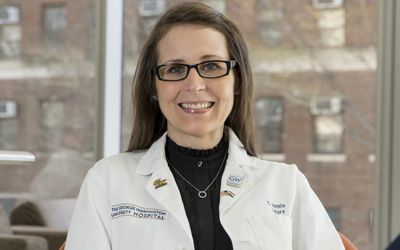 "That's really how my interest in medicine began, being this right-hand person in this tiny little clinic that my mom started," says Hendrix, a surgery resident at the George Washington University (GW) School of Medicine and Health Sciences (SMHS).
Hendrix's parents worked as missionaries in Paraguay for 25 years. Her mother started a vaccination program in the village and educated its members about medication adherence; her father helped with wound care and suturing.
Her parents' dedication to their patients and the community is at the core of what drives Hendrix in her work at GW. "They're so passionate about it, and I want my life to have that kind of passion," she explains.
Hendrix lived in Paraguay until she was 18, at which point she immigrated to the United States to pursue a career in medicine. She has moved all over the country with her husband, who serves in the U.S. Air Force, while raising four children, the youngest of whom is 9.
"They're really why I can do what I do," she says of her family. "I feel like I have an added measure of stability, because I have this incredible support structure at home. They're really proud of me, and I can't even tell you what that does for me [in terms of] spurring me on."
Hendrix earned her medical degree from the University of Arizona at Tucson, and now, in her second year of residency at GW, is pursuing trauma surgery. She made that career decision in part because of the hands-on time she spent helping her parents care for their patients in Paraguay.
"I never felt as invigorated or as inspired as I did when I was working on surgical rotation. That was the one thing I found in medical school, that it didn't matter how many hours I worked, I was thrilled to be working with my hands," she says. "I'd rather be tired and fascinated than working fewer hours and feeling like I'm not doing what I most enjoy. I love never knowing what's coming through the door."