SMHS Alumni Give To Put Advanced Education Within Reach
Calculating the value of an education is both literal and figurative, an amalgamation of dollars and cents, and knowledge and skill. For many, the financial costs of a medical education are a burden to a budding health care career. At GW's School of Medicine and Health Sciences (SMHS), however, two alumni, whose new endowed scholarships total nearly $2 million, have ensured that the next generation of physicians can focus their efforts on learning. Stanley Kulaga Jr., M.D. '64, and Bennet Porter Jr., M.D. '53, A.A. '49, had a first-hand understanding of that burden — and the significance a scholarship can have on a physician's future.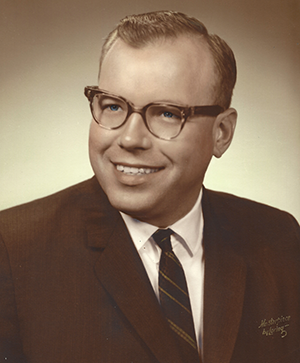 Kulaga, a native of Reading, Pennsylvania, spent his summers and holidays working at his father's business, an auction house, to help pay for his education costs. During his undergraduate years at Temple University, a scholarship from Breyer's Ice Cream helped make Kulaga's financial burden more manageable. When he was accepted to medical school at GW, the costs were too great, but, thankfully, his dad stepped in to help when the GI Bill wasn't enough.
"After the GI Bill left off, his father actually paid for his medical school," recalled Kulaga's daughter, Karen Veneziale. "Through his education, [he] was able to make a good living, and he felt it was important to give back to other young people who shared an interest in medicine but may not have the means to pay for school."
Kulaga, added Veneziale, always felt a connection to GW, even when he steered away from the practice of medicine to a clinical research career at pharmaceutical firm Merck & Co., where he worked for more than two decades. "His medical career was always really important to him, and [GW] was where he obtained it, so [the school] was very close to his heart," Veneziale said.
For GW, Kulaga's gift is invaluable.
"Cost is one of the most significant barriers to pursuing a medical education," said Jeffrey S. Akman, M.D. '81, RESD '85, vice president for health affairs, Walter A. Bloedorn Professor of Administrative Medicine, and dean of SMHS. "Dr. Kulaga's dream of 'paying it forward' in scholarships to M.D. program students at SMHS reflects a profound sense of gratitude toward his alma mater. His wonderful gift will ease the debt burden that our students face as they embark on their careers in medicine."
Porter likewise felt obliged to give back to an alma mater that had given him so much.
"He thought education was so important and so appreciated the education he got at GW," said Porter's daughter, Ronda Pitts, adding that her father instilled that appreciation in her and her brother. "As I was growing up, he always talked highly of [the school] … he owed a lot [to GW] for his successful career."
Porter, after graduating from medical school, had a family practice with a fellow doctor in Silver Spring, Maryland, for close to 40 years. After retiring, he moved to Hermitage, Tennessee, and took a greater interest in creative pursuits: playing piano and organ, mostly by ear; analyzing music theory; and carving wood.
He always wanted to remember GW, Pitts said, so he created an endowment to the school in his will.
"The gift was amazing," explained Dennis Narango, M.A., associate dean and associate vice president for development and alumni relations. "Dr. Porter made it unrestricted, enabling the Dean to use it where he determined it was needed most. GW is very fortunate to receive this donation."
The gift, Akman decided, should go toward the students.
"Reducing student debt load is one of my highest priorities," he said. "When I became aware of this magnificent unrestricted gift, I immediately decided that it would be most beneficial in supporting scholarship opportunities for our students. Dr. Porter leaves a remarkable legacy as his gift will make a significant difference in the lives of many GW medical students." 
Support for Primary Care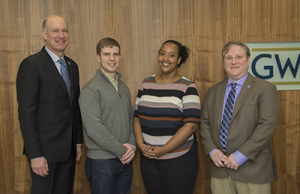 Just a few weeks removed from a record-high drawing of the Powerball lottery, a pair of GW School of Medicine and Health Sciences (SMHS) M.D. program Class of 2017 students received substantial prizes of their own: the third annual Primary Care Scholarships.
For third-year students Yodit Beru, M.P.H., and Alexander Sullivan, the slushy Jan. 28 morning began normally with a full-class gathering for their Practice of Medicine course. Unlike the typical day-long workshop, however, this particular class began with rounds of applause from classmates as Beru and Sullivan were awarded their $100,000 scholarships.
The scholarship, now in its third year, was established anonymously by two grateful patients of primary care physician Matthew Mintz, M.D. '94, RESD '97, assistant dean for pre-clinical education and associate professor of medicine at SMHS. This year, more than a dozen third-year students applied for the award. Selection is based on rigorous criteria including academic standing, commitment to pursuing primary care as a specialty, and debt load.
Both of this year's recipients discovered their love for the front-line medical specialty as GW Healing Clinic volunteers, Beru serving as a co-clinic manager of the Cheverly Health Center clinic in Prince Georges County, Maryland, and Sullivan serving as co-director of provider relations for the Bread for the City clinic in Washington, D.C.'s Shaw Neighborhood. [/box]