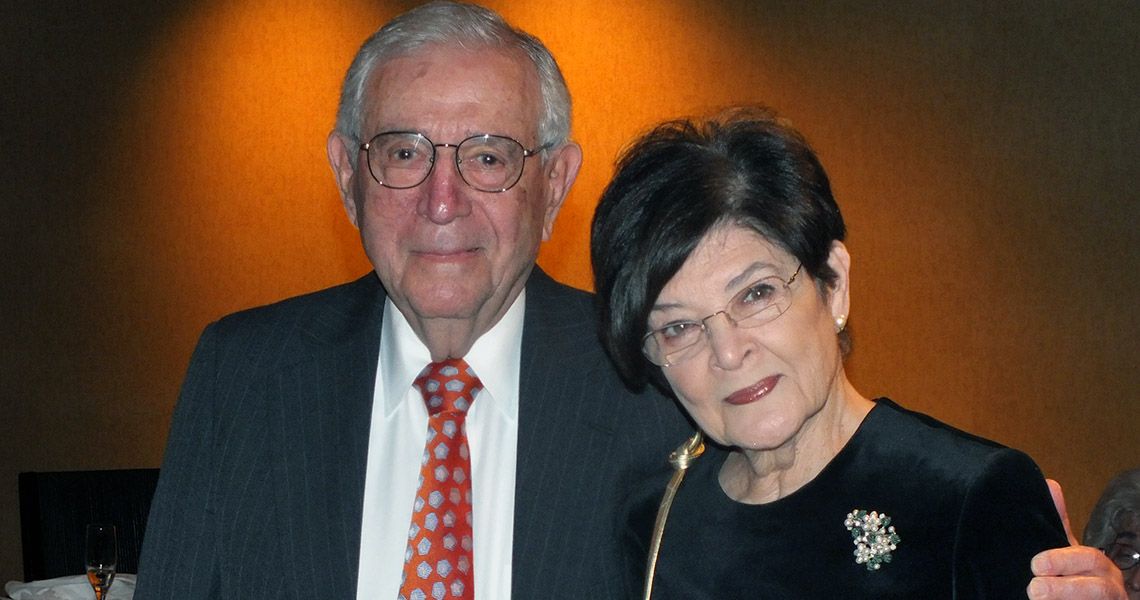 For more than a century and across four generations, the Perlin family has been a part of George Washington University. In 2022, Jonathan B. Perlin, MD, PhD, and Donna J. Perlin, MD, found a way to celebrate the couple at the very center of that long history.
Their endowment of The Seymour and Ruth Perlin Professorship in Psychiatry and Behavioral Sciences at GW's School of Medicine and Health Sciences (SMHS) honors Jonathan's parents and supports an up-and-coming faculty member in psychiatry who shares SMHS Professor Emeritus Seymour Perlin's passion for training residents in the field.
"We wanted to recognize my parents, their contributions and their love for GW," Jonathan said. "Just as GW has played a significant role in our family's success, it's wonderful to pay it forward through this professorship and invest in others who will also experience the benefit of a GW education."
Jonathan's father, Seymour, or "Sy," was professor of psychiatry and director of GW's psychiatry residency training program at SMHS from 1977 to 1998. Both Sy and Ruth are founding members of the Friends of the Luther W. Brady Art Gallery. Ruth, an art historian and museum educator, also serves as a member of the George Washington University and The Textile Museum board.
The family's affiliation with GW began more than 100 years ago, however, when Ruth's father began his law studies at GW in 1921, earning his law degree in 1924. Rome Hall is named after Ruth's cousin, local construction legend Benjamin Rome. Sy joined GW's clinical faculty in 1974 and two of their sons — Jonathan's brothers — earned graduate degrees from GW. This past fall, a fourth generation joined GW when grandson Connor began  medical school.
Jonathan, who is president and CEO of health care accreditation organization The Joint Commission, and Donna, a pediatric emergency medicine physician, wanted to honor that legacy and make "a durable commitment" to GW that would make a difference in resident education.
"A lot of gifts support research and others support bricks-and-mortar," Jonathan said. "As physicians, my wife and I wanted to support the educators who train the folks conducting research, practicing and teaching at the university."
Barbara L. Bass, MD, RESD '86, professor of surgery, Walter A. Bloedorn Chair of Administrative Medicine, vice president for health affairs and dean of GW SMHS and CEO of the GW MFA, said the school is "grateful to the Perlin family for supporting the clinical and educational missions of our Department of Psychiatry and Behavioral Sciences."
"This professorship, like all endowed professorships, will elevate the visibility and prestige of the department and shine a spotlight on the importance of training," Bass said.