Robbie Russell walked onto the soccer pitch to the thunderous sound of 80,000 voices singing: "Die meister [the masterful], die besten [the best], les grandes equipes [the great teams], the champions." That was 13 years ago, and Russell was a right back playing for Norwegian professional soccer club Rosenborg BK. It was one of his first matches in the Champions League, an elite European soccer tournament.
"To this day, hearing that song gives me goosebumps," he says.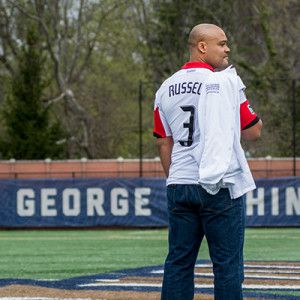 Now a third-year M.D. student at the George Washington University (GW) School of Medicine and Health Sciences, Russell has come a long way from the soccer field. But every step he's taken — from playing for clubs in Norway, Denmark, Salt Lake City, and Washington, D.C. — has led him to his dream of practicing medicine.
Russell first came to GW looking to study orthopedic surgery; it's what impressed him from watching doctors tend to his teammates. Once at GW, his interests shifted to emergency medicine, partly because of the pace and the day-to-day challenges. "I love the fact that coming into work, I don't know what I'm going to see. It's very exciting; it's very scary," he says.
So far Russell is making the most of his time at GW. He serves as vice president of the Student National Medical Association, as co-president of the GW Emergency Medicine Interest Group, and as a member of the D.C. Department of Health's Medical Reserve Corps, managed by the GW Medical Faculty Associates, a medical response and disaster team.
Russell discovered his aptitude for soccer during high school. His mother worked three jobs to help support the family, but affording college seemed out of reach. Russell's prowess as a player paid off, however, and Duke University offered him an athletic scholarship.
Despite his success as an athlete, Russell says he was always drawn to science.
"I started off college as pre-med, but then I walked into my first calculus course and bombed it. So I thought, 'I can't threaten my GPA, I'll just do the general athlete program and go from there.' "
The "from there" turned into a 14-year professional soccer career that Russell greatly cherishes.
When Russell was traded to D.C. United in 2011, "everything started to align." He was finally living in the same city as his wife, Tiana, who worked in D.C. while he played for Real Salt Lake. After retiring from soccer, Russell completed a post-baccalaureate premedical program, and was accepted as an M.D. student at GW.
Russell now puts the focus and drive he showed on game day into his work at GW, and spends his free time with Tiana and their two sons, Leo and Lucas.
"Everything that's ever happened to me, good or bad, has taught me something. And if I don't apply it now, I'm doing those experiences a disservice," he says. "I hope to bring all of those experiences to my work in medicine."