It was the summer after Laura Perry's sophomore year at Harvard University when she accepted an internship at the Baltimore City Health Department, a decision that would completely alter the course of her career. For three months she shadowed health department employees and worked closely on regulation and policy issues. Perry, now a third-year internal medicine resident at the GW School of Medicine and Health Sciences (SMHS), always had a passion for public health and an interest in large-scale problem-solving. But it was the opportunity to work with the then Baltimore health commissioner, Peter Beilenson, M.D., M.P.H., that convinced her that becoming a physician was the best way to effect change on both large and small scales. "Beilenson is a brilliant visionary," Perry says. "He sees how being a public servant can be a way of enacting positive change."
Beilenson's influence took root, and now Perry hopes to parlay her interest in public health into a primary care career. "Becoming a primary care physician allows me to change my patients' lives for the better," she says.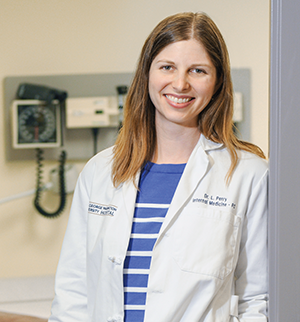 Perry grew up in Dartmouth, Mass., a small town about an hour outside Boston. She earned her bachelor's degree from Harvard University, where she studied the history of medicine, and later earned her medical degree from the Emory School of Medicine in Atlanta, Ga.
From a public health perspective, primary care was really the only field that made sense for Perry. And, explains Perry, because GW has one of the oldest primary care tracks in the country, the school was possibly her best choice for a residency. The program is unique in that it "offers a solid foundation in outpatient clinical medicine and has a strong clinical focus."
As a resident, Perry is putting her problem-solving skills to work as chair of the Resident Peer Review Committee (RPRC). The committee ensures that all GW patients receive the highest-quality care and that SMHS residents are working in an environment that is conducive to such care. Perry oversees the review of cases and production of opinions, serving as a liaison between the committee and hospital/program leadership.
"Laura's interest in solving large-scale problems, coupled with her desire to create positive change within the health care field, makes her the ideal person to lead the Resident Peer Review Committee," says Nancy Gaba, M.D.'93, RESD '97, Oscar I. and Mildred S. Dodek and Joan B. and Oscar I. Dodek Jr. Professor, and chair of the Department of Obstetrics and Gynecology and associate dean for graduate medical education at SMHS. As chair, "she is bringing together residents from all specialties at GW to find common interests and make meaningful progress."
"When there is a problem or a system isn't functioning the way it should, the RPRC can address it formally," explains Perry. Often the committee has identified systemic problems that contributed to poor outcomes. In these instances, Perry says, "we develop committee opinions regarding both the nature of the problem and potential solutions." With the support of Gaba, the RPRC has developed strong working relationships with both the hospital administration and residency directors, and, says Perry, they have been able to facilitate a variety of positive changes for the hospital.
Going forward, Perry plans to stay on as chief resident at the Washington, D.C., Veterans Affairs Medical Center, after her graduation this summer. Her role will combine quality improvement, teaching, and clinical supervision as a wards attending. Her portfolio in public health has led her to the conclusion that she will never do just clinical medicine. "It will be half of what I do," she says. The other half will be "teaching medical students and improving health care from a broader standpoint."