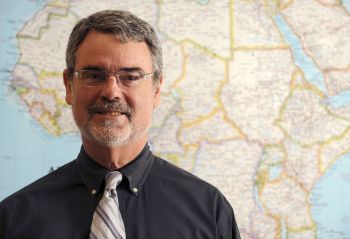 George Washington University (GW) Professor of Health Policy Management and of Pediatrics Fitzhugh Mullan, MD, PhD, died of lung cancer on Nov. 29, 2019, at age 77.
"He leaves an incredible legacy as a teacher, mentor, clinician, and leader," said Jeffrey S. Akman, MD '81, RESD '85, former vice president for health affairs, Walter A. Bloedorn Professor of Administrative Medicine, and dean of GW School of Medicine and Health Sciences (SMHS). "His passion for medicine and health and his positive energy, will certainly be missed."
Mullan joined SMHS in 1996, as professor of pediatrics, ultimately becoming the Murdock Head Professor of Medicine at SMHS, and professor of health policy and management at the Milken Institute School of Public Health at GW. 
In 2011, the National Institutes of Health tapped GW to serve as the coordinating center of its Medical Education Partnership Initiative, with Mullan at the helm. The $12.5-million, five-year project sought to increase medical education capacity at 12 participating medical schools in sub-Saharan Africa, enhancing the quantity, quality, and retention of the graduates. 
In 2015, Mullan co-founded GW's Health Workforce Institute to study and strengthen health workforce policies in the United States and around the world. In 2019, the institute was renamed the Fitzhugh Mullan Institute for Health Workforce Equity. 
Mullan was first diagnosed with cancer in 1975. Seven years later he published his first book, "Young Man's Cancer," about his experiences as a physician battling cancer and gaining a new perspective on the medical care patients receive along the path to recovery. He went on to become the founding president of the National Coalition for Cancer Survivorship.
Mullan is survived by his wife, Irene Dankwa-Mullan; daughters, Meghan and Caitlin; son, Jason; and stepdaughter, Perpetua.