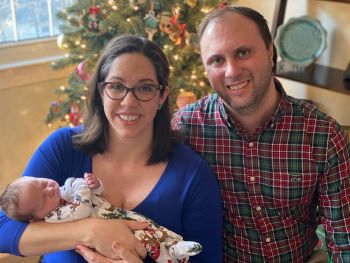 At the end of December, William Fenner Griffin, MD, radiology/diagnostic resident at the George Washington University (GW) Hospital, and his wife welcomed their first child into the world, but not long after that joyous day the COVID-19 pandemic altered the social landscape of the United States. The virus forced much of the country to a standstill, while Griffin continued reporting to his essential role at the hospital each day.
In April, Griffin had a week where he needed to be on in-house call at the hospital every night, leaving him wracked with worry that his possible exposure to the virus could put his family at risk. 
"With the impact of COVID-19 on children somewhat unknown, and constantly changing, I was very fearful of exposing anyone in my family, especially my four-month-old child," he said, adding that his living situation made it hard for him to be able to self-isolate. 
Griffin, however, found the support that he needed through the GW Graduate Medical Education Office and the GW COVID-19 Response Fund, which provided him with free alternate housing.
The fund was launched in late March to support the academic and clinical mission of the GW School of Medicine and Health Sciences during the global health crisis. In addition to assisting with alternate housing costs for frontline providers like Griffin, the fund also has been used to purchase personal protective equipment, provide tents for drive-through testing sites, and enhance telehealth capacity. To date, more than 120 residents have received some support through the fund.
"In the face of this unprecedented pandemic, GW health care professionals are working around the clock to save lives and meet the critical health needs of our region," said Jonathan Agree, associate vice president for development and alumni relations for health and medicine at SMHS. "They are facing a tremendous public health challenge and the shortage of personal protective equipment and patient supplies is crippling their ability to respond."
Among the first gifts to the GW COVID-19 Response Fund was a sizable donation from the Judy and Peter Blum Kovler Foundation.
"Peter and Judy Kovler were struck by the critical nature of the current pandemic, and they reached out to me to ask my thoughts on how to support the health care community at GW," said Courtney Paul, MD, assistant professor of medicine at SMHS and associate program director of internal medicine at The GW Medical Faculty Associates.
"Residents and other health care staff may need to be quarantined at local hotels or have unexpected child care or commuting costs," she said. "I thought supporting the house staff, however we could, would be a good goal."
"It was a huge relief to know that I could stay in alternate housing to minimize my contact with my family while I was taking in-house call at the hospital," Griffin said.