Afternoon tea is a time-honored daily British tradition. It's an opportunity to sit, sip, and chat with friends or co-workers. Growing up in Cambridge, England, Douglas F. Nixon, M.D., Ph.D, is well acquainted with the custom. During his time at the University of Oxford, where he trained as a pathologist, Nixon found that conversations over a cup of tea might lead to any number of things, including scientific advances. "If you can get people out of their office and into a space with a welcoming atmosphere, then you create an opportunity to brainstorm and form new ideas."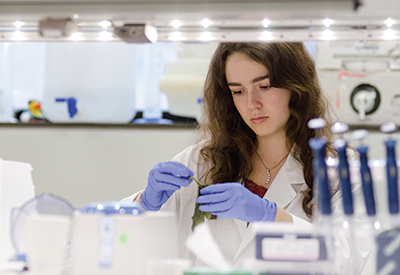 As the Ross Professor of Basic Science Research and Chair of the Department of Microbiology, Immunology, and Tropical Medicine (MITM) at GW's School of Medicine and Health Sciences (SMHS), Nixon will put this philosophy into practice as he leads the school's two new labs: The Research Center for Neglected Diseases of Poverty and The Center for Basic Research for the Cure and Prevention of HIV/AIDS.
Touring the nearly 35,000-square-foot space that occupies the 5th and 6th floors of Walter G. Ross Hall, it is clear that it's not a typical lab. The space features two meeting or "interaction" areas, 104 individual work stations, a microscope room, and a tropical life cycle room — where parasites are cultured.
In 2010, SMHS received a $15 million grant from the National Institutes of Health through the Recovery Act Limited Competition: Extramural Research Facilities Improvement Program to help construct the new labs. This new lab space is state-of-the-art, according to Nixon, as much because of the science taking place in it as the way the lab is constructed.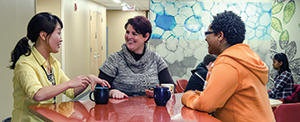 The space is equipped with six InFocus Mondopads — wall-sized tablet PCs with 55-inch LCD touch screens, digital interactive whiteboards, and video conferencing capabilities. The screens are strategically placed to foster discussion and collaboration and will play a major role in the lab's international work. Rather than replacing face-to-face meetings, says Nixon, they will enhance the meetings by streamlining the preparation of background materials.
This area was cleverly designed for a reason, says Nixon. "Scientists often lack opportunities to interact with fellow scientists," he says. "In order to generate new ideas and strengthen existing collaborations you need a space where people can meet."
"If you can get people out of their office and into a space with a welcoming atmosphere, then you create an opportunity to brainstorm and form new ideas." ­—Douglas F. Nixon, M.D., Ph.D. 
For Nixon, these meeting areas, not found in other labs, provide the opportunity to interact with people who work outside his field, as well as those within it. "I find it very valuable to talk to people who are working in different biological disciplines because I always learn something from them."
In the lab, Nixon, whose research is funded through grants from the NIH, AmfAR (the Foundation for AIDS Research), and the Gates Foundation, is most excited to contribute to the science behind an HIV cure or vaccine. A pioneer in HIV/AIDS research, Nixon has devoted much of his time and effort to eradicating the disease. "With our existing faculty and with new recruits, I'm confident we can create an intellectual, scientific hub where GW can make a major contribution to HIV/AIDS research," he says.
Research on neglected tropical diseases such as hookworm — which influenced the NIH's decision to award the grant to MITM — will also be conducted in the new labs. Jeffrey Bethony, Ph.D., and David Diemert, M.D., both associate professors of MITM, are currently working to develop and test a novel, low-cost hookworm vaccine to help control human hookworm infection in endemic countries. Scientists in the department are also trying to understand more about Opisthorchis viverrini, or liver fluke, a cancer-causing worm that is rampant in Thailand.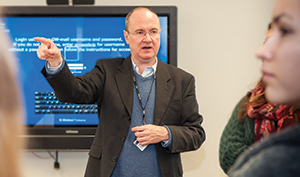 As for the future, Nixon hopes the new labs will serve as the model for other university labs to emulate, and will one day be internationally recognized as a scientific hub for HIV/AIDS and tropical medicine research. Nixon adds, "We hope that the research conducted in the new MITM space at GW will contribute significantly to reducing the burden of HIV/AIDS and infectious diseases of poverty in the world."