With the support of grants from the National Institutes of Health (NIH), Pedro A. José, M.D., Ph.D., professor of medicine in the Division of Renal Diseases and Hypertension and professor of pharmacology and physiology at the George Washington University (GW) School of Medicine and Health Sciences, is exploring how the body disposes of salt. Salt sensitivity is an underdiagnosed condition of hypertension, and insight into the process may lead to more personalized treatments for patients.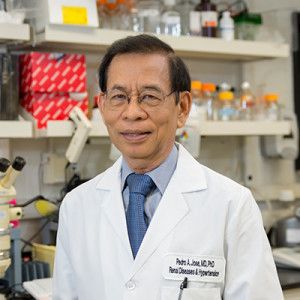 Sodium channels in the stomach sense salt levels in the food, José says, and those cells secrete the hormone gastrin, to alert the kidneys that they need to make more dopamine; gastrin and dopamine team up to rid the body of the excess salt.
For some people, taking in too much salt will cause blood pressure (BP) to rise, but about 15 percent of people see higher BP if they take in too little salt, José says. The trouble, he adds, is that there's no way to know who falls under which category.
Discerning how the stomach senses salt levels, and the channel of communication through which gastrin tells the kidneys to make more dopamine, may lead to a better understanding of salt sensitivity, says José.
To investigate how the communication occurs, researchers put catheters into mice blood vessels that go into the stomach and the duodenum. Next, they added short interfering RNA (siRNA) to genetically disrupt the gene, he explains. "So, if you put in the siRNA … [and] direct that against the sodium channel, you'll only be disrupting the sodium channel in the stomach and duodenum."
By limiting the disruptions just to sodium channels in the stomach, the technique prevents the body from making excess hormones in other areas that can be harmful, José adds.
The current NIH grants through which José is conducting his research include "Renal Dopamine-1 Receptor Defect in Hypertension," a recently renewed grant for a total of more than $1.7 million, as well as a grant totaling more than $3.7 million awarded to GW via the University of Virginia, for which José is a subcontractor, "Dopamine and Angiotensin Receptor Interactions in Genetic Hypertension."
In addition to his research at GW, José is wrapping up a yearlong stint as the chair of NIH's Hypertension and Microcirculation Study Section. The study sections review and approve grants admitted for funding.
"It's important that one [reviews the grants] to ensure the review process is fair, and that the review process really comes up with the best proposals to be funded by our government," he says.
It's not his first rodeo with NIH study groups. José previously chaired the same study section, which was previously called the Cardiovascular and Renal Study Section B, from 1996 to 1998.