Fresh out of medical school and on the first assignment of his young medical career, Yen-Yi Juo, M.D., M.P.H., found himself aboard a minesweeper, responsible for the health of 75 sailors and crew members as a medical officer for the Taiwanese Navy. Just a month into his position and far out to sea, Juo had to treat a sailor suffering from a pneumothorax, a life-threatening respiratory condition characterized by a tiny hole in the lung.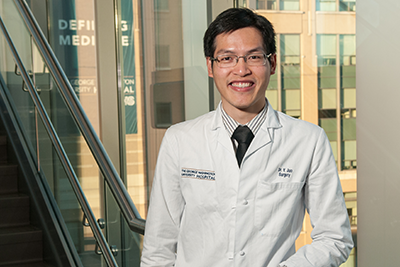 "It was a very scary situation," says Juo, describing how he inserted a needle in the sailor's chest to relieve pressure in the chest cavity, allowing the lung to expand and saving his patient's life. "It was my first experience as a practicing physician, alone, in the middle of the sea, and having to make life-changing decisions."
Born and raised in the seaport town of Kaohsiung, Taiwan, Juo moved to the United States in 2012 after finishing his military service, to pursue a career in medicine. Juo, now a second-year categorical surgical resident at GW's School of Medicine and Health Sciences (SMHS), came to SMHS for its renowned surgical residency program. "I chose surgery because of the commitment to holistic care and personal responsibility for the patient unique to the specialty," he says.
"When I first came here I didn't know that a Q-tip and a cotton swab were the same thing," recalls Juo, who received his medical degree from National Taiwan University, as well as a master's degree in public health from the Johns Hopkins University. "There was a learning curve in the beginning as a foreign graduate, but the warmth of the working environment and the patience of my mentors helped me catch on very quickly."
The school's surgical program stood out for Juo, especially the opportunities for hands-on training and clinical research. "Part of the attraction is that GW's program is so comprehensive and really strives to deliver whole-person care," he explains. "The faculty is enthusiastic in taking residents through procedures and encourages independent thinking and decision making."
Also, being at a renowned academic institution such as GW has given Juo more opportunities for research and publication.
When he isn't in the operating room, Juo often finds solace sitting at a piano playing Bach. "I have played since I was kid," he says. "It has been a great way to relieve the stress of long hours and little sleep during residency."
After residency, Juo plans to pursue a fellowship in surgical oncology. "People have said that my lifestyle as a surgical resident will be hard and the hours will be long," he says. "But I think it's a beautiful thing to be able to commit oneself to the thing that one loves at least once in life and see what comes out of it."