Resident Esosa Imasuen, MD, Says Her Career Was Molded by the Places She's Lived and Worked
Ahome is often defined simply as a place where one lives, but for Esosa Imasuen, MD, the word paints a more diverse picture. For her, home is the people, cultures, and experiences that have shaped her and led her to where she is today: in residency at the George Washington University (GW).
Imasuen, a third-year internal medicine resident at the GW School of Medicine and Health Sciences, sees a home in her birthplace, the United States, and in Nigeria, where she spent her early years — and wants to ensure her work spans the miles between those countries.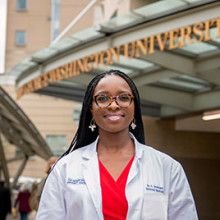 "I've spent about equal amounts of time in the United States and in Nigeria. My childhood memories are in Nigeria, and thanks to my mother I had a great childhood. I am very fond of Nigerian music and food, and the resilient and creative nature of the people. Nigeria is very vibrant, albeit chaotic, and there's just something about it that's special," she says. "And when I am here in the United States, I am equally at home too."
So far in her residency at GW, Imasuen says even when the work gets tough, she remembers the impact she's making on patients' lives and leans on the support of her program mentors and colleagues to motivate her to keep going.
"I am so blessed to be in this program because I feel at home here. I've been able to make good friends, and whenever I am struggling there's always someone to help me. It really is a family," she says. "It is exactly what we were told to look for in a residency, and I am lucky to have found that."
She adds that she's also happy to be closer to Maryland, where she was raised and where her "always supportive" mother and aunts still live.
"I am so blessed to be in this program because I feel at home here."
Although Imasuen has decided to practice primarily in the States, she wants to make an impact on how primary care works in Nigeria as well, especially through improvements to the continuity of care offered there. Nigeria's primary care system is different from America's; the average Nigerian patient does not see the same provider from year to year, and might not even go to the same practice each year.
Because of that, Nigerians typically do not have one designated provider who knows their medical history. Imasuen says she wants to improve that.
"Last year, through the aid of the Global Health Elective Grant, I was able to return for a second rotation at a Nigerian hospital in Lagos. On these trips, I take a little black book in which I write down areas [in which] I could help with quality improvement or things I can do to advance the system. I also jot down pearls of wisdom I have learned from patients," she says. "I am still trying to figure out my specific role, but I have an idea of where I can fit in."
Imasuen adds that she has always believed in diversity "in many shapes and forms."
"Being able to take different things from different cultures has always been something my mom raised me to do, which has also enhanced the way I practice medicine," she says. "So I am not surprised at my desire to practice both in Nigeria and in the United States."