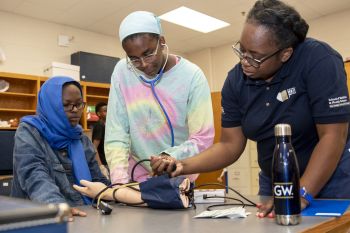 The George Washington University (GW) School of Medicine and Health Sciences (SMHS) received a $700,000 grant from the Commonwealth of Virginia to implement an innovative educational project in the life sciences and expand regional job opportunities for students in the Governor's Health Sciences Academy at T.C. Williams High School.
A team from GW SMHS health sciences, supported by grant funding from the Growth and Opportunity for Virginia (GO Virginia) program, will establish a new Community Medi-Corps Program at the Governor's Health Sciences Academy in Alexandria, Virginia. The centerpiece of the project will be a mobile Immersive Learning Center — a 40-foot-long classroom/laboratory on wheels that will provide students with state-of-the-art technology, simulation, and immersive virtual reality and augmented learning experiences.
"The GO Virginia program continues to demonstrate how regional collaboration can give rise to innovative projects that deliver real economic impact, especially during challenging times like those we face right now," said Virginia Gov. Ralph Northam in a statement announcing the grants. "These projects will increase workforce capacity, enhance Virginia's competitive business environment, and support our ongoing efforts to build resilient communities that are well-positioned for future success and growth."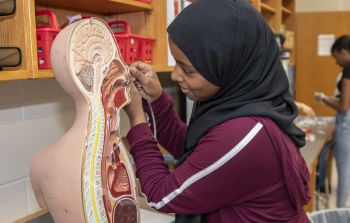 The academy, an innovative partnership between GW and Alexandria City Public Schools (ACPS), was established in 2018 to respond to the region's urgent need to expand training for high-demand health care careers, promote career pathways in health and STEM-focused fields, support students who want to pursue postsecondary education, and improve the diversity of our regional health care workforce. The academy offers students seven career and technical education pathways: informatics, medical laboratory sciences, sports medicine, pharmacy, emergency medical services, nursing, and surgical technology. Academy students can earn up to 18 college credits from GW while in high school.
"We are excited to receive this grant and start work on the collaborative Community Medi-Corps Program and its Immersive Learning Center," said Linda Zanin, EdD, director of strategic partnerships at SMHS. Zanin serves on the project team along with principal investigator Teri Capshaw, MBA, and Kevin O'Connor, DO, associate professor of medicine and senior medical advisor to health sciences. "This initiative will allow students to engage and work together to problem-solve, use virtual technology, and interact with experts in the life and health science fields."
Zanin added, "our industry, community, secondary, and higher education partners are committed to investing and supporting learning that connects students with real-life learning experiences, preparing them for higher education and the workforce. Our goal is to inspire youth to explore and connect, as we create tomorrow's next generation of health care leaders."
The Medi-Corps program is made possible by collaboration with the Alexandria Economic Development Partnerships, Alexandria/Arlington Regional Workforce Council, as well as three major health care employers in the region: Inova Health System, CareFirst BlueCross BlueShield, and Goodwin House, Inc. In addition to Academy students in ACPS, the Medi-Corps program will benefit students in Arlington Public Schools and Fairfax County Schools. The program aims to bridge the gap between academics and the workforce by offering internships with experienced health professionals and bringing cutting-edge educational technologies directly to regional high school students and teachers.
According to James W. Dyke Jr., former secretary of education for Virginia and member of the Governor's Health Sciences Academy's Advisory Board, the program "puts students on a pathway to high demand and high paying health care industry jobs that are much needed to grow Virginia's economy." Dyke, a senior advisor for state government relations with McGuireWoods Consulting LLC, added, "This is a perfect partnership model for other regions in the Commonwealth that ties together secondary education, community colleges, and four-year institutions to better prepare our future workforce. I commend GW for its efforts to expand the impact of the Governor's Health Sciences Academy."
The mobile classroom, which will be ready for use in 2021, will incorporate the latest immersive learning technologies to support critical thinking and applied learning to maximize student learning and engagement. The program will offer learning experiences that engage experts in the field and incorporate state-of-the-art augmented and virtual reality, so students receive an immersive learning experience that builds and promotes teamwork.
The academy's first cohort of 85 students will graduate from high school in 2022. More than 400-plus graduates are expected by 2025. Academy graduates earn their high school diplomas, career-related industry certifications, college credits for coursework, and guaranteed admission to various health professional programs at GW.