For Sheila Pinette, D.O., PA '83, chief health officer for the Maine Department of Health and Human Services (DHHS), the path leading to Maine's highest public health office was a fast-paced and challenging journey — and one that began at the GW's School of Medicine and Health Sciences (SMHS) physician assistant (PA) program.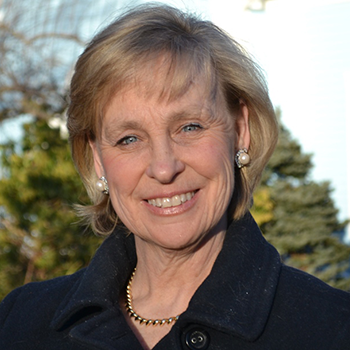 For a self-described country girl, Pinette felt that coming to GW's urban campus in 1981 and experiencing an international city for the first time was as intimidating as it was exhilarating. "It was alarming, it was beautiful, it was exciting," she says. "In the beginning it was overwhelming, but it was one of the most exciting times of my life."
Like students today, SMHS PAs in the 1980s trained and completed clinical rotations alongside medical students, offering the opportunity for the two groups to share knowledge and build strong relationships. "We really learned a lot together," says Pinette. "It was fantastic the way it was set up."
Pinette recalls her many mentors at GW, such as Frank N. Miller, M.D. '48, B.S. '43, chair of the Department of Pathology; Benny Waxman, M.D., associate chair of obstetrics and gynecology; and Thomas Eugene Piemme, M.D., who was integral to bringing the PA program to GW. During her time at SMHS, Pinette became the school's first Upjohn Presidential Scholarship recipient. After earning her degree in August 1983, Pinette went to Hartford, Connecticut, to begin her PA career at Saint Francis Hospital, where she served as a house officer for the neonatal intensive care unit. There she met a young doctor, Michael G. Pinette, M.D., FACOG, and the two were married in August 1988. In 1989, Michael Pinette was recruited by the Maine Medical Center to develop the maternal–fetal medicine program and to direct the women's health program. Sheila Pinette joined him, working as a PA caring for high-risk patients in the program. Together, the couple strengthened the perinatal outreach program — building it from a staff of three to a staff of more than 50 employees with three other physicians — to address Maine's high maternal morbidity and mortality rates.
In 1996, Pinette looked to build upon her medical training. She earned a doctorate in osteopathy from the University of New England College of Osteopathic Medicine in Biddeford, Maine, in 2000, and followed that with an internal medicine residency at the Maine Medical Center in 2003.
After nearly a decade in private practice, Pinette was appointed director of the Maine Center for Disease Control and Prevention (CDC) in April 2011, under the administration of Governor Paul LePage. During her tenure with the CDC, Pinette spearheaded policy changes for women's health, worked to restrict elected deliveries prior to 39 weeks (which succeeded in decreasing preterm births), advised legislators on how to educate doctors and the public on breast cancer risk factors, promoted healthy eating and bringing down the state's obesity rates, and raised awareness for Lyme disease, which is an epidemic in Maine. In February 2015, she was promoted to chief health officer for the Maine DHHS, as well as the acting state medical epidemiologist.
For Pinette, leadership and success have been a collaborative effort. "I attribute many of my successes to a strong educational foundation and a passion for medicine much inspired by the faculty at GW," she says. "With tremendous dedication, ambition, my faith, and lots of positive energy, along with the love and support of my family and friends, I have been able to lead in a respectful, thoughtful manner as part of a community of leaders. No one person can do it alone, as it takes collaboration and partnership to succeed."