Jay Katzen, M.D. '72, B.A. '67, was among six George Washington University alumni who received the 2016 Alumni Outstanding Service Award at the 55th annual Alumni Outstanding Service Awards ceremony.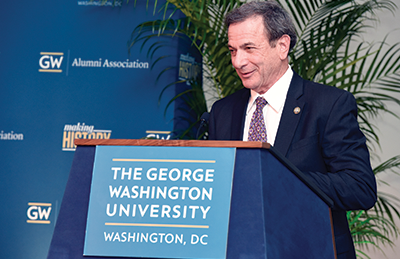 The annual award is presented to those alumni who advance the mission of the University through dedicated volunteer efforts in support of its programs, thereby ensuring the University's impact on the community and future generations of students.
Katzen is a practicing ophthalmologist with the Eye Center in Alexandria, Virginia. A native Washingtonian, he serves as a member of the GW School of Medicine and Health Sciences (SMHS) Dean's Council and the GW Board of Trustees, and, along with SMHS M.D. program classmate Stuart Kassen, M.D. '72, FACP, MACR, and Lara Oboler, M.D. '95, he plays a key role in the university's comprehensive campaign — Making History: The Campaign for GW.
Katzen has built on the philanthropic efforts of his family members, Cyrus and Myrtle Katzen, who made a $10 million gift to GW in 2008 to fund a range of cancer research initiatives. Today, Katzen oversees the family foundation, which has contributed substantial resources to local charities and organizations, including the GW Heart and Vascular Institute and  the Katzen Cancer Research Center.
Past SMHS recipients of GW's Alumni Outstanding Service Award include Lara Oboler, M.D. '95, in 2014; Richard Popiel, M.D. '81, RESD '83, M.B.A., B.A. '75, in 2013; Christopher L. Barley, M.D. '93, in 2012; Jack Summer, M.D., RESD '81, who received the Jane Lingo Alumni Outstanding Service Award in 2011; and Kerry Kuhn, M.D. '73, RESD '77, B.A. '70, in 2009.