Class pride runs deep in the culture of GW, and the School of Medicine and Health Sciences (SMHS) Class of '68 has a particularly good reason to be proud. To date, the class has donated more than $1.1 million to GW. That amounts to $23,900 a year, give or take.
While the total gift amount is impressive in and of itself, what makes this story even more remarkable is the class' high participation rate. Among the 108 alumni, 90 percent have given to GW, totaling more than 1,400 gifts over the years. It's proof that many small to moderate-sized gifts can be as significant as larger, but more scarce, donations.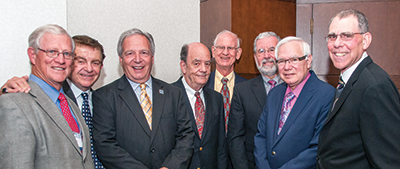 Among the dedicated leaders of the class is cardiologist David B. Williams, M.D. After graduation, he served two years in the United States Air Force before accepting a position at Kaiser Foundation Hospital in California, where he served for 25 years.
"We have a class of great physicians who really appreciate GW, and want to maintain the quality of the school," says Williams. He notes that everyone benefits by donating to GW — alumni help their own reputation by maintaining their alma mater's prestige.
Another Class of '68 alumnus is Allan W. Lohaus, M.D., who, following graduation and an internship, served two years of alternative services at an inner-city health center in Louisville, Ky. Later, he served a residency in OBGYN at Sinai Hospital in Baltimore and entered private practice in Columbia, Md.
For Lohaus, the class is dedicated to giving back because they're so aware of all they have received through their SMHS education. The scholarships, loans, and employment opportunities that accompanied his GW education are things for which Lohaus is extremely grateful. He was able to attend GW thanks to a scholarship, and often designates his own gifts toward student scholarships. "I think the term is 'pay it forward,'" he adds.
Like Williams, Lohaus has made a bequest intention to the school. "Part of my life's success is because of my GW med school experience," he says. "I want to acknowledge that in a significant way."
While breaking a million dollars in donations is an incredible achievement, the class shows no sign of resting on its laurels. Both doctors have words of advice to their classmates on how to keep up the pace.
"I think you stay connected with GW and let that be your inspiration for giving," says Lohaus.